​​​​​​​What's in the newly designed 2024 Subaru Forester near Rio Rancho NM
The newly designed 2024 Subaru Forester near Rio Rancho NM will be available at a dealership near you in winter 2023. It has been about five years since Subaru did a redesign on the Forester, and we are looking forward to the updated style. It will have a revamped exterior and interior, improved safety features, and an infotainment system. You can also expect a more fuel-efficient Forester. There may be a hybrid and a plug-in hybrid version of the Forester in the future to look forward to.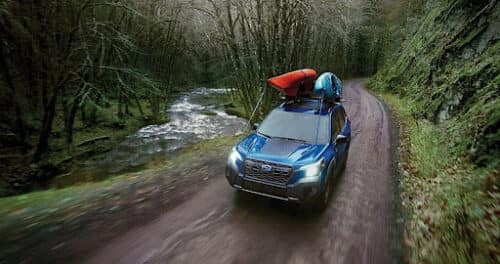 ​​​​​​​ sxs
2024 Subaru Forester near Rio Rancho NM: Forester Features
This five-passenger compact crossover is a challenge to beat in its class. The 2024 Subaru Forester near Rio Rancho NM provides ample interior room allowing passengers more than enough space to stretch out. Plus, it has loads of cargo space to haul items such as groceries, luggage, sports gear, fishing supplies, or camping equipment. It also delivers an exceptionally comfortable ride due to its superior quality interior fabrics, well-organized controls, and spacious cabin. Subaru is leading in driver safety technology, and Forester continues to earn the highest scores in safety. To stick with Subaru's safety trend, the new 2024 Forester will come standard with the EyeSight driver assist and active safety technology. It will include an assortment of safety features like lane keep assist, containing automatic emergency braking, and adaptive cruise control.
Forester Available Features
The new 2024 Subaru Forester near Rio Rancho NM will also offer rear cross-traffic alert and blind spot monitoring in higher trim levels. You can also upgrade your infotainment system to include an 11.6-inch touchscreen. It will come standard with two USB ports in the front; in most trim levels, you will get two additional USB ports in the back. There is a speaker option based on the configuration of your Forester offering anywhere from four to nine speakers.
Forester Wilderness
For those on a quest for a more rugged Forester that can handle on-road and off-roading, the Wilderness trim level is the perfect fit. It will have an increased ground clearance totaling 9.2 inches and all-terrain tires, making tackling rocky terrain easier. It also comes with off-road performance, a heavier underbody, skid plates, and suspension making it ideal for off-roading. For the ultimate off-road performance, Subaru reconfigured the X-Mode off-road mode delivering exceptional traction on challenging surfaces. The Wilderness trim level will stand out with its gold exterior highlights and water-resistant interior surfaces.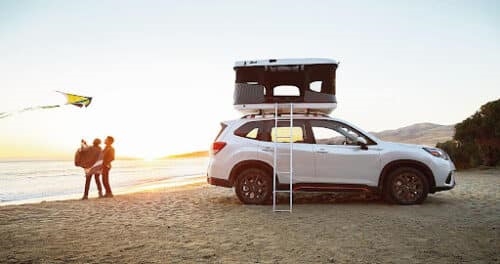 Fiesta Subaru
Be one of the first on the list to own the 2024 Subaru Forester. Please check our website to get the most current information or stop in to meet with our product specialists. We can assist you in pre-ordering your customized 2024 Subaru Forester ensuring you get all the features and safety technology you desire. Our finance pros will guide you through the process and find you an auto loan that suits your budget.
Please search Fiesta Subaru's online inventory or come by and allow one of our experts to help find your ideal Subaru Forester. Check out our dealership showroom at 7100 Lomas Blvd Albuquerque, NM 87110.