What you Need to Know About Subaru Ground Clearance in Albuquerque, NM
Thanks to the current popularity of crossovers and SUVs in the U.S., many automotive terms that were once only used in select groups are now becoming more common. Ground clearance is one of those terms. So what is it exactly? Simply put, this measurement is the least amount of space between the ground and the bottom of the vehicle's body. Also called ride height, it's explained as how far the lowest part of your car is from the road surface. In addition, when the manufacturer lists ground clearance, it will usually refer to the expanse as it's measured when the vehicle is empty. This means when the SUV is full of passengers and cargo, you'll more than likely have less of it.
What's the Significance of Subaru Ground Clearance in Albuquerque, NM?
Having a higher ride height is particularly suitable for driving over rocky or rough terrain. The underside of your crossover is much less likely to hit or scrape the ground with lots of ground clearance. In contrast, with less distance to the ground, the vehicle can sustain damage to the underbelly from hitting bumps or potholes in the road.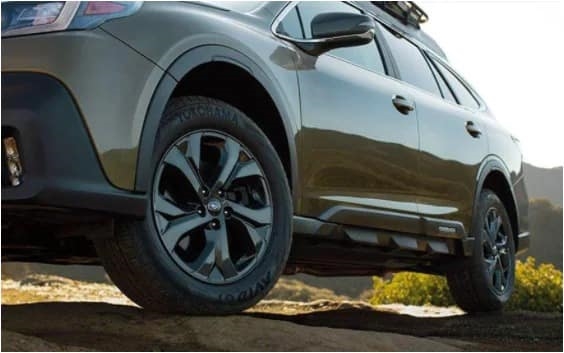 Driving off-road in a car with low ground clearance, even on a well-tended forest trail or gravel road, can sometimes result in damage from bottoming out. When you choose a Subaru crossover, you'll never have to worry about damaging the underside since Subaru ground clearance in Albuquerque, NM is built in. Every Subaru SUV has a standard ground clearance of a whopping 8.7 inches to help get you over obstacles and overcome rugged terrain. In addition, Subaru SUVs with an 8.7-inch ride height include:
The Crosstrek – A stylish subcompact crossover with a well-thought-out interior with plenty of space.
The Forester – A wagon-style crossover with a vast cargo hold for weekend getaways, camping trips, yard sale discoveries, and more.
The Outback – A perennial favorite that can take your friends, family, and pets just about anywhere.
The Ascent – The newest Subaru that has three rows and seating for up to eight.
Another advantage of a taller ride height is the fact that sitting up taller gives you more visibility. If you've ridden in a pickup truck, you know how cool it is to be sitting higher than the cars around you. Seeing over the lower vehicles can help you drive more safely, spotting brake lights and traffic snarls from farther away. Of course, with the shift in what America wants to drive, most automakers now are focusing more on ground clearance, all-wheel-drive, and cargo space, which Subaru has always done.
Performance, Stability, and Ground Clearance
However, there's a downside to a higher ride height; and that's a higher center of gravity. With a raised center of gravity, it's so much easier for the car to roll over. Subaru recognized this problem years ago and solved it by engineering their products differently. All Subarus come standard equipped with the SUBARU BOXER® engine, which has a horizontal layout, thus a lower position under the hood. With pistons moving side-to-side rather than up-and-down, the engine has a flat, low profile and is almost perfectly symmetrical. This design merges balance with efficiency and power and offers a lower center of gravity than other engine designs. Coupled with full-time AWD on all Subaru vehicles except the BRZ, you can't ask for better stability. Sports cars and high-performance sedans usually have lower ground clearance to provide better handling and traction. But did you know that Subaru sedans also have better ground clearance than average? Yes, even Subaru cars flaunt impressive Subaru ground clearance in Albuquerque, NM. So, if you need to get off the pavement for any reason, Subaru cars give you peace of mind and make it easy to take on rough surroundings. The cars made by Subaru include:
The Impreza – Offered as a sedan or hatchback, this one has 5.1 inches of ground clearance.
The Legacy – A midsize sedan with an incredible 5.9 inches ground clearance.
The WRX – Famous for rally racing, the quick and sporty WRX has 4.9 inches ride height.
The BRZ – A sporty coupe, the sleek BRZ even offers 4.9 inches ground clearance.
Visit Us to Learn More
Discover more about your favorite Subaru models by visiting our Fiesta Subaru dealership at 8100 Lomas Blvd in Albuquerque. When you arrive, you can gather more information from our knowledgeable and friendly associates and test drive any of our Subaru vehicles. So, take the next step toward finding the car of your dreams and stop by Fiesta Subaru today.