What to Expect for the 2023 Subaru Forester near Santa Fe NM
Introduced in the late 1990s, the Subaru Forester is one of the earliest compact (crossover) SUVs to hit the market. It's been a very successful model for the company and has built up a good reputation through the years. Standard all-wheel-drive and excellent ground clearance have helped make it a popular option for drivers in both cold and wet climates. Subaru typically follows a five-year product cycle for its best-selling models, with a "refresh" of the interior and exterior for the fourth year and an all-new design after the fifth year. Since the Forester was redesigned for the 2019 model year and facelifted for the 2022 model year, we don't expect many changes for the 2023 Subaru Forester near Santa Fe NM.
The Real Deal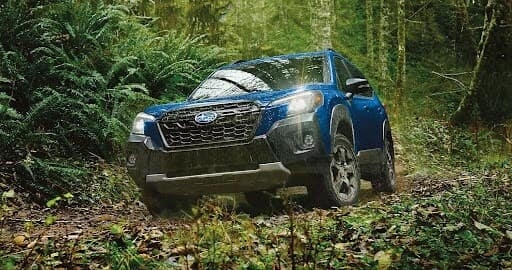 As you've undoubtedly noticed, most compact SUVs are advertised in a way that makes us imagine fun family outdoor adventures in a new all-wheel-drive vehicle. When you have an SUV, your family outings will be much easier, right? Truthfully, few families will actually get around to those adventures, and even if they did, some of those compact sport-utility vehicles wouldn't be very good out in the wilderness anyway! However, the Subaru Forester is the real deal, and Forester owners are much more likely to go on those outings that other SUV owners only dream of doing. These adventure-seeking people are still a small set of the driving population, but the Forester comes equipped with features that make it ideally suited for what they need. Standard symmetrical all-wheel-drive, substantial cargo space, class-leading ground clearance, rugged roof rails, and a minimalist interior are just some of the amenities that make it so well-suited. Add its reliable reputation to the mix, and it's easy to see why the Forester is a favorite among compact SUV drivers.
Competition for the 2023 Subaru Forester near Santa Fe NM
Although we expect the 2023 model to remain mostly unchanged, minor trim adjustments, new wheel designs, and added paint color choices may be seen. The 2022 model acquired a revised front fascia and improved roof rails to support more weight. With heavy competition including the Toyota RAV4, Kia Sportage, Ford Escape, and Honda CRV, Subaru is keeping the Forester fresh and in top form. Due to such rivalry, the company could surprise us with a new engine choice for the 2023 Subaru Forester near Santa Fe, NM. Maybe the turbocharged 2.4-liter option like the Outback received? At any rate, the base engine will remain the 4-cylinder, 182-hp engine paired with Subaru's continuously variable transmission (CVT). This combination is perfectly acceptable for daily driving and is quite efficient on fuel, having an EPA-estimated rating of 29 mpg combined, which is near the top of the segment.
Interior Comfort and Technology
Whether you've got a road trip planned or a long commute every day, the Forester will get you there in comfort. The outstanding suspension smooths out ruts or bumps in the road, and well-padded front seats have good bolstering and provide lumbar support. Road noise is minimal, and while the Forester's tall cabin does create minor wind noise, it's worth it due to the commanding seat position and outstanding visibility it provides. Climate control dials are conveniently placed where they should be and are easy to locate without taking your eyes from the road. The available automatic climate control works great, and all but the base trim comes with heated seats. A dual-screen center layout can be had with the base 6.5-inch display or upgraded to the 8-inch. Navigation is easy to use and takes voice commands correctly. Apple CarPlay and Android Auto come standard, and several USB ports are located front and rear. There are plenty of safety features, thanks to Subaru EyeSight, the company's suite of driver-assist technology. Forward collision warning, auto emergency braking, lane-keeping assist, and adaptive cruise control are just a few.
Visit Us
The Forester gives you many options to perfect your version, and along with its many advantages, it also has a fantastic resale value. If you're ready to check out the Forester and take it for a test drive, stop by Fiesta Subaru at 8100 Lomas Blvd in Albuquerque, NM today!