What's Subaru's plan behind marketing a specialized SUV like the 2024 Subaru Crosstrek Wilderness in Albuquerque, NM?
While other car makers might offer specialized model lines--like BMW's M series or Nissan's NISMO cars--Subaru has continued to march to the beat of a different drummer. Rather than more horsepower, torque and high G forces, Subaru's Wilderness series offers modifications that allow higher ground clearances, improved traction on loose gravel and a ruggedness to go off-road if needed. All of these are qualities that might come in handy in New Mexico when the highway ends and an off-road adventure beckons. The 2024 Subaru Crosstrek Wilderness is a new model for this year, and opens up new horizons for those with a yearning for outdoor adventure.
Let's start by looking at the functional aspects of the 2024 Subaru Crosstrek Wilderness in Albuquerque, NM. The Subaru 2.5-liter Boxer four cylinder engine, rated at 182 HP, and 178 lb. /ft. of torque has been used in other Crosstrek models. But in the Wilderness, Subaru has cleverly changed the final drive of the differential from a 3.7 to a 4.11 to give the Crosstrek Wilderness more power and climbing ability through its CVT (constant velocity transmission. Combine this with revised programming of the CVT for better traction on slippery surfaces and the powertrain offers plenty of power for most consumers for on and off-road excursions. Subaru also added a transmission cooler to keep the CVT from overheating, and this allows the Crosstrek Wilderness to tow up to 3,500 pounds. But that's only the start of what makes the Crosstrek Wilderness such a unique model. Subaru engineers used longer shocks and revised coil springs to give it a whopping 9.3" of ground clearance- over a half inch longer than standard Crosstrek models. This improves approach and exit angles for hilly terrain, and together with Yokohama Geolander all-terrain tires mounted on 17" black alloys, allows for extended travel through snow, mud and gravel.
Subaru also heavily revised the look of the 2024 Crosstrek Wilderness by endowing it with different bumpers, wheel arches, body cladding, grille, fog lights and a metal underbody skid plate. Combine that with a ladder-type roof rack and 700 pound static weight limit, the vehicle can even allow rooftop tents or equipment storage to be used. The interior is, as you might have guessed, rugged with a water-resistant fabric and special Wilderness logos in the seats and startup menu. Both front and second row seats use unique copper-colored stitching to further distinguish it. Standard all weather mats and rear cargo mat pair with LED lighting in the rear to keep dirt and mud at bay. Those who still want their tech can still rely on an 11.6" color touchscreen to access Bluetooth, Apple CarPlay, Android Auto and other apps to guide and entertain.
Advanced safety systems like Subaru's X-Mode allow the driver to pick from multiple modes and judge roll-angle situations. ABS braking, traction control and hill descent technology can also help the driver in steep or slippery conditions. EyeSight driver assist technology like lane assist, dynamic cruise control, accident braking and cross traffic alert are standard equipment on the Crosstrek Wilderness, which will start at $31,995. Built in Indiana, with advanced LED headlights now standard in the 2024 Subaru Crosstrek Wilderness in Albuquerque, NM offering quite a package for practical drivers with a yearn for outdoor adventure.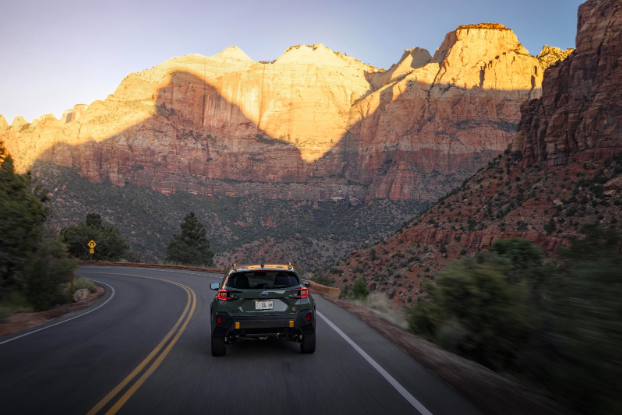 When Will the 2024 Subaru Crosstrek Wilderness Arrive in Albuquerque, NM?
Subaru has been shipping different models of the 2024 Crosstrek for a few months now, but there's no easy way to tell if a Crosstrek Wilderness model is in stock yet. They could even be unwrapping a few as you read this. But smart consumers with a taste for adventure can look up the new car inventory of the 2024 Subaru Crosstrek Wilderness at the Fiesta Subaru dealership in Albuquerque at 7100 Lomas Blvd NE right now!