What makes the 2024 Subaru BRZ tS near Rio Rancho NM such a compelling drive?
Let's start out on an imaginary morning drive in your new 2024 BRZ Ts to your favorite breakfast place at Heck's restaurant along Rio Rancho Boulevard. As you park your new sports car to get out and dine, it's hard to take your eyes off the sleek profile that it displays simply sitting there. Low and wide, the front grille features functional air inlets and a subtle piece of 'tS' badging to one side. The curves of the front fenders and hood rise to meet the aerodynamically shaped A-pillar and roofline perfectly. Only the sharp eyed and knowledgeable sports car enthusiast may notice the second bit of 'tS' badging along the rear deck lid, or near the back of the LED headlight modules. It's much easier to appreciate the rear fender flares, slight upward sweep of the color matched side skirts, or small duckbill spoiler. On that last item, it should be noted that STi-- Subaru's performance arm—decided that adding a bigger spoiler wasn't worth the extra drag for this version of the BRZ tS model. It also helps that the tS is now a regular production option, available in all seven BRZ paint options. And after a good breakfast and some coffee to get your day started, you're ready for some adventure.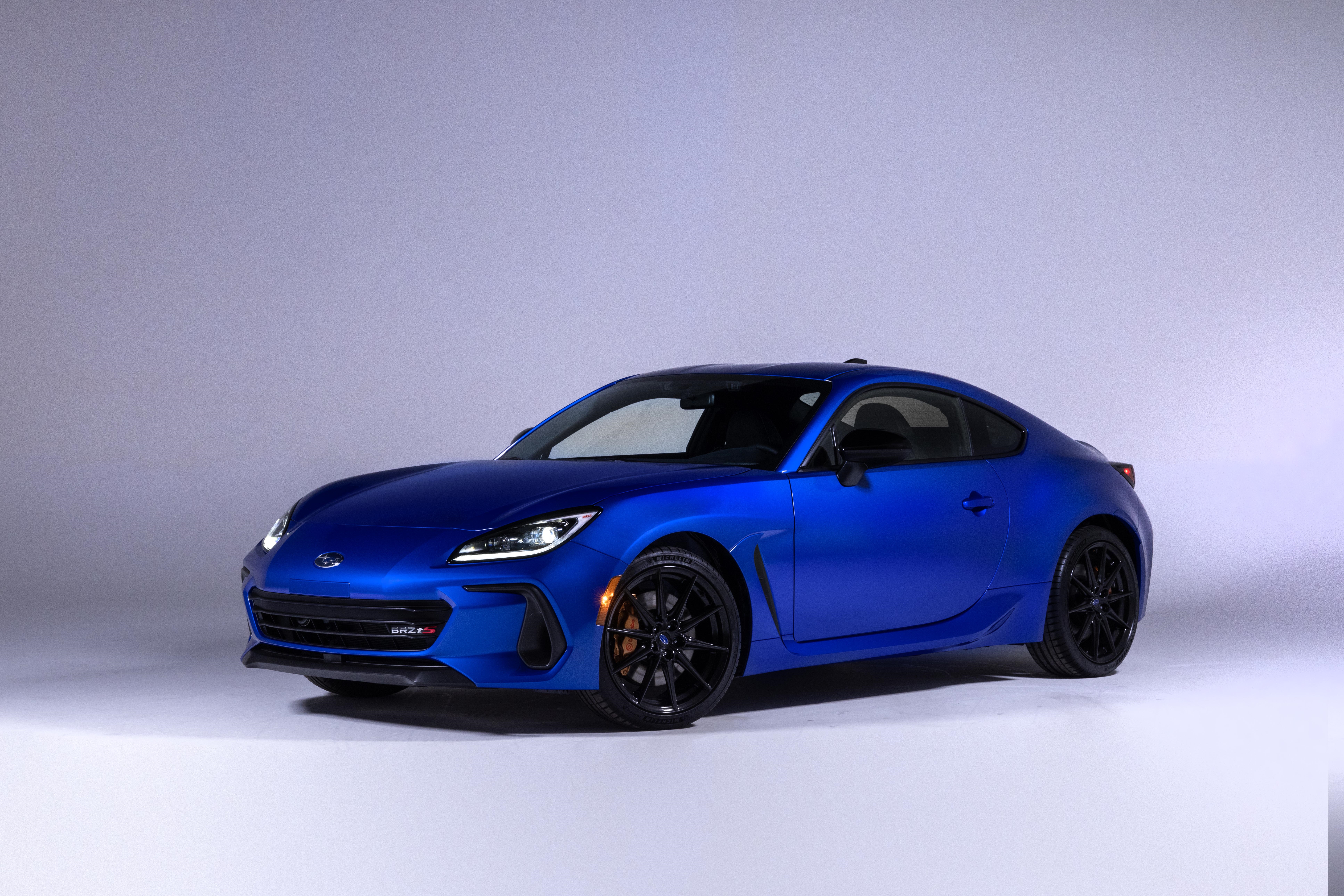 Open the door and take in the black sport seats with unique blue stripes on the seats that symbolize Subaru's racing heritage. That, along with special STi logos on the red start button and on the dash gauge reminds you of what a special car this is. But after starting the car and driving towards I-25, there was little doubt of that. The BRZ tS features STi-tuned Hitachi shocks on all four corners and that, together with the BRZ's low center of gravity and near 50/50 weight balance make this a terrific drive. You can feel the roadway as you sweep though slow and fast turns with cornering as flat as the pancakes you had this morning. Slightly stiffer springs and a hollow rear swaybar also allow the BRZ tS to have less dive under braking and better balance. Speaking of braking, Subaru added gold-painted Brembo brakes to the 2024 BRZ tS, with larger monoblock calipers clamping down on 12.8" discs up front and 12.4" rear. You notice how easy it is to modulate the brakes entering the corner and releasing them cleanly. With 18" dark grey wheels wrapped in Michelin Pilot Sport tires you have the grip to deal with dry or wet roadways. Together with a six-speed manual (or six-speed automatic transmission with paddle shifters), the BRZ tS makes city driving a pleasure.
Safety Matters
With all this performance come added safety features in the form of Subaru's EyeSight system, which is added to Subaru's manual transmission cars for the first time. It features adaptive cruise control, pre-collision braking system, lane control and sway alert, all using sensors to assist the driver from getting into trouble when they least expect it. There's also 'lead car start alert', which beeps when the car ahead pulls away at a stop light or in traffic if the driver is distracted. Hitting I-25, you head the BRZ tS north, with the aim of exploring Santa Fe and perhaps Taos later in the day. Subaru's latest FA24 flat-four engine powers you with 228 HP and 184 lb/ft torque. In a lightweight sportscar like the BRZ that's plenty of power, and running it on the highway brings mileage figures that won't break the bank (21 city, 27 highway and 25 combined). Together with a Torsen limited slip rear differential on those mountain roads, you've got the entire day to explore more fun and adventure!
When Will the 2024 Subaru BRZ tS near Rio Rancho NM Arrive in Albuquerque, NM?
While Subaru has not yet announced availability or pricing on the 2024 BRZ tS, it's estimated the model will arrive priced near the mid-thirties. This remains below the average price of a new car today, and is particularly attractive to New Mexico consumers seeking factory-tuned performance at an affordable price. While there's no definitive date of when they might arrive, look for the 2024 Subaru BRZ tS at the Fiesta Subaru dealership in Albuquerque at 7100 Lomas Blvd NE in Albuquerque, NM 87110 any day now!