​​​​​​​What makes the 2024 Subaru BRZ one of the best sports cars near Rio Rancho, NM?
While it's been two years since Subaru redesigned their BRZ sports car, there's been little reason to do so again. The second generation BRZ addressed previous power concerns by upping the displacement of their powerplant from a 2.0-liter to a 2.4-liter flat four with 228 HP and 184 lb/ft torque. By retaining the horizontal engine design and stiffening the BRZ chassis, Subaru enhanced the superb handling characteristics of the car, while upgrading other key areas. The interior has better materials in the seats, dash and cabin. The redesign also upgraded the LED gauges and instrumentation of the BRZ in conjunction with design partner Toyota. And while Subaru builds the BRZ on the same production line as the Toyota 86 model, exterior styling is quite different from the headlights to a tidier rear end. And while neither the 2024 Subaru BRZ near Rio Rancho, NM or Toyota 86 are volume sellers, both companies have tuned their respective models based on feedback from their customer base. In Subaru's case, engineers tuned the BRZ to have a more sporting feel than their Toyota counterpart. Slightly stiffer front springs and a hollow rear sway bar allow the BRZ to carry less dive under braking and better rear end balance while cornering.
KBB and C&D Honors
Recently, Kelly Blue Book (kbb.com) recognized the BRZ and four other Subaru models with their '5-Year Cost to Own' awards to help consumers break down typical ownership costs with the lowest projected five-year total. The 2023 had the lowest operating costs over a five-year period for an affordable sports car taking into account depreciation, maintenance and repairs using a sophisticated valuation methodology. Meanwhile, the editors at Car and Driver (C&D) also voted the BRZ (and Toyota 86) to their 10-best car list for handling, style, build quality and overall fun factor. They considered the BRZ on par with a late model Porsche Cayman for "about half the price and tiny, but usable back seats". Not such bad company to be in!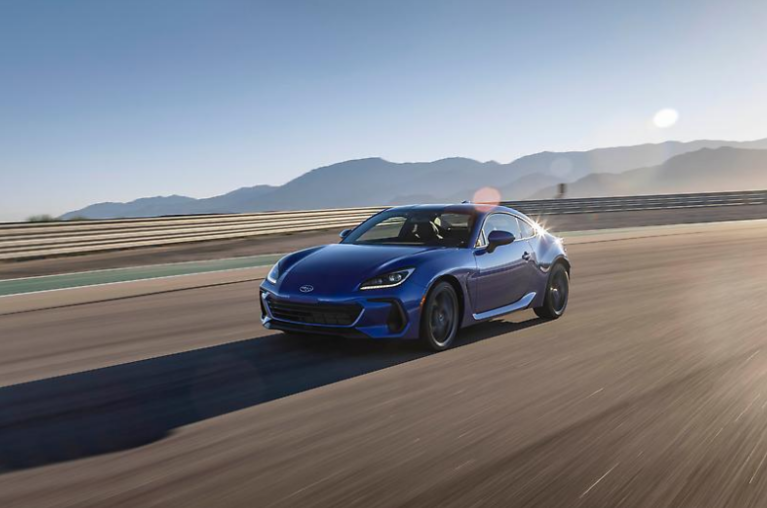 When Will the 2024 Subaru BRZ Arrive near Rio Rancho, NM?
While Subaru has not yet announced availability or pricing on the 2024 BRZ, it is expected they will continue to offer two models in the line. The BRZ Premium and Limited models will each offer a (short throw) six-speed manual or six-speed automatic transmission (with paddle shifters). All models are rear wheel drive, and utilize a Torsen limited slip differential out back to control wheelspin. When the 2024 models begin to arrive, customers might also wish to buy a backup set of wheels and winter tires to allow them to make the BRZ a year-round car. The BRZ has software that will allow two sets of tire pressure monitors to be programmed into the onboard tire pressure monitor system (TPMS) without the tires having to be dismounted. While there's no definitive date of when they might arrive, look for the 2024 Subaru BRZ near Rio Rancho, NM at the Fiesta Subaru dealership in Albuquerque at 7100 Lomas Blvd NE, Albuquerque, NM 87110 any day now!