The Finer Points of Subaru Safety near Rio Rancho, NM
Thanks to its innovative safety features, the Subaru brand is among the safest automakers today. Several new models- the Ascent, Forester, and Crosstrek- received ratings of five stars with the NHTSA. They come jam-packed top-to-bottom and end-to-end with all the modern safety and driver-assist tech you could want in a new car. So, what are some of the features of Subaru safety near Rio Rancho, NM?
Passive Features of Subaru Safety
Several passive safety features in Subaru vehicles are included in nearly all cars on the road today. Airbags are the first type that comes to mind. Every Subaru model has a minimum of six standard-equipped airbags: front, side, and curtain. Additionally, some models may have two seat-cushion airbags or a driver's knee airbag. A Subaru car or crossover can even change the amount of force used to deploy those airbags.
Another feature is Subaru's standard ring-shaped body structure. Think of a gold wedding band ring. The ring is thin, relatively light, and soft, but it doesn't easily bend when you squeeze it. That's because the energy from the squeeze gets dispersed around the circular shape. Using the same principle, a Subaru vehicle takes the energy from a collision and moves it around the car's frame.
More passive safety is engineered into the seat belt with pretensioners, which remove the slack from your seatbelt in the first milliseconds of a crash. This limits your body motion inside the cabin, preventing you from being knocked around or flying through the windshield.
Finally, a passive feature exclusive to Subaru vehicles is the low-mounted, flat Subaru BOXER engine. The BOXER engine is engineered to collapse underneath the passenger section during a devastating front impact rather than pushing into the cabin and crushing you.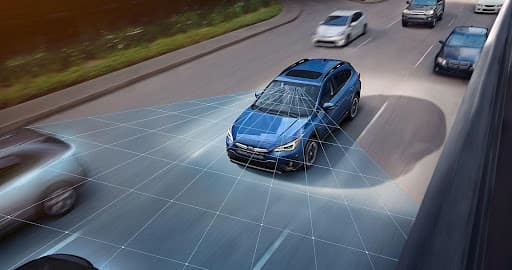 ​​​​​​​
Active Features of Subaru safety near Rio Rancho, NM
Vehicle systems that thwart an accident from occurring are known as active safety technologies. Many of Subaru's critical active safety features come as part of the EyeSight suite of technologies. Subaru EyeSight includes
Adaptive cruise control,
Pre-collision (or automatic emergency) braking,
Pre-collision throttle management, and
Lane-departure/sway warning with lane-keeping assist.
The essential premise is that with EyeSight, you'll have another pair of eyes to help you when driving. Think of it like a co-pilot helping to keep everyone safe when out on the road.
Conventional cruise control is fantastic for the open highway but not so great for stop-and-go city driving. Adaptive cruise control works the same way as the regular kind but adjusts to the speed of the other cars in front and behind your car. If you're driving in cruise mode and suddenly come upon a slow-moving vehicle, your Subaru takes control. When the slowpoke is no longer in your way, press "resume," and you'll get back to speed.
Sensors in the front of your Subaru that detect potential impacts up ahead are used in pre-collision braking. If the sensors notice something, you'll be alerted with an audiovisual alarm. If you don't apply the brakes with enough pressure to stop, your Subaru will do it for you.
The pre-collision throttle management works in tandem with the pre-collision braking. If a vehicle stops suddenly in front of you, you'll get the warning sound and visual, and your Subaru will automatically decelerate. At that point, the braking will kick in, or you can stop, slow down, or drive around whatever is in your way.
Lastly, there's the lane-departure and sway warning, which alerts you if you drift from your lane. With lane-keeping assistance, your Subaru will correct the steering wheel to keep you in your lane.
Conclusion
These features of Subaru safety near Rio Rancho, NM are included to help keep you and your passengers safer on the roads by managing the small things that can add up to big problems. Together, these active and passive technologies aren't quite auto-pilot, but they're close to it!
To learn more about Subaru EyeSight and to experience it for yourself, visit Fiesta Kia to schedule a test drive of any of our incredible Subaru models. You'll find us at 8100 Lomas Blvd, Albuquerque, NM 87120.