Is the 2024 Subaru BRZ tS in Albuquerque NM worth the price as a better sports car?
When Subaru redesigned their BRZ sports car two years ago, they decided to add a higher performance variant to the line. The 2024 Subaru BRZ tS near Albuquerque NM is the result of engineering work done by STi, Subaru's performance arm and features significant changes to the suspension and braking system to make the car even more appealing to the sports car enthusiast community. There are also unique cosmetic changes to both interior and exterior styling to set the BRZ tS apart as well. Built on the same line as the new Toyota 86 model, the arrangement allows both companies to build relatively low volume sports cars at an economical price. But that doesn't mean tuning their respective models have to be the same, and in Subaru's case, STi engineers turned to their partner supplier Hitachi (versus Sachs for Toyota) to produce a shock with different valving for flatter cornering. Slightly stiffer springs and a hollow rear swaybar allow the BRZ tS to have less dive under braking and better balance.

Speaking of braking, Subaru added a Brembo brake system to the 2024 BRZ tS, with larger gold-painted monoblock calipers clamping down on huge 12.9" discs up front. This not only provides shorter braking distances, but more importantly, allows for better pedal modulation when at the limit and much improved fade resistance. The BRZ already offers a low center-of-gravity and a Torsen limited slip differential out back to control wheelspin. Together with a six-speed manual or six-speed automatic transmission (with paddle shifters), the BRZ tS promises to deliver impressive performance to skilled drivers.

Exterior wise, the already sleek shape of the BRZ gets added tS badging front and rear, with black mirrors and shark fin antenna to set off the seven different shades of color offered in the BRZ line. Grey painted 18" wheels with high-performance Michelin Pilot Sport tires complete the look. Inside, there's black upholstery with a thin blue line on the bolstered sport seats and contrasting blue stitching on the leather wrapped steering wheel, shift boot and parking brake. Look carefully and you'll also find a STi logo on the start button and on the customizable 7" digital IP. Nubuck-like material lines the top of the IP and door trim surfaces.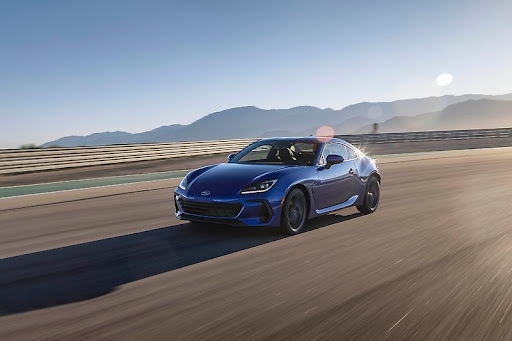 Safety Matters
With all this improved performance comes added safety features in the form of Subaru's EyeSight system, which is added to manual transmission cars for the first time. With adaptive cruise control, pre-collision braking system, lane control and sway alert, the EyeSight system uses sensors to assist the driver from getting into trouble when they least expect it. It also includes lead car start alert, which beeps when the car ahead pulls away at a stop light or in traffic as the driver is distracted.
With all these improvements, where is the turbo power you may ask? Well, Subaru previously addressed power concerns by upping the displacement of their flat-four engine to a 2.4-liter rated at 228 HP and 184 lb/ft torque. But there's a bigger (and much more expensive) problem to overcome in the form of Federal testing requirements mandated for new engines. Changing camshafts, pistons or essential running components (such as adding a turbo) means going through a complete retest of the revised engine with the EPA. These tests cost millions of dollars and are the primary reason most manufacturers won't offer modified engines. The 2024 BRZ tS already possesses superb light weight performance with the FA24 engine, while not charging the consumer an exorbitant rate for it.
When Will the 2024 Subaru BRZ tS Arrive in Albuquerque, NM?
While Subaru has not yet announced availability or pricing on the 2024 BRZ tS, it's estimated the model will arrive priced near $35K. This is far below the average price of a new car today, and is especially attractive to New Mexico consumers seeking a factory-tuned performance car at an affordable price. While there's no definitive date of when they might arrive, look for the 2024 Subaru BRZ tS at the Fiesta Subaru dealership in Albuquerque at 7100 Lomas Blvd NE, Albuquerque, NM 87110 any day now!