​​​​​​​The 2024 Subaru Ascent in Albuquerque, NM is Tops in Safety
Are you a stickler for safety in an automobile? Most Americans view safety as essential in their vehicle, and even more so if children make up part of that family. Subaru of America knows how you feel and vows to provide customers with cars that meet the highest safety standards. An outstanding example of this commitment can be found in the 2024 Subaru Ascent in Albuquerque, NM.
Crash-Testing Agencies
Being concerned with vehicle safety, you've likely heard of the two U.S. organizations that perform crash tests on virtually every vehicle for sale nationwide. One of these agencies, the National Highway Traffic Safety Administration, falls under the federal government's guidance. The NHTSA conducts tests and then rates vehicles for safety on a 5-star scale.
Because insurance companies are financially motivated to make car collisions as infrequent and safe as possible, they fund their own safety agency that implements its own series of tests. This organization is the Insurance Institute for Highway Safety or IIHS.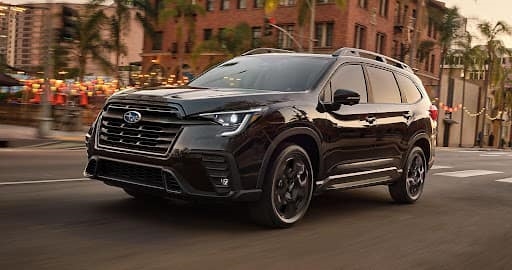 The IIHS tests are viewed as more demanding than those of the NHTSA. Before adjusting its criteria, the NHTSA must go through public and congressional red tape, which tends to affect results- like fewer new tests or "watered down" testing due to industry lobbyists.
On the other hand, the IIHS can make its standards more stringent whenever it believes the step is needed. It only requires approval from the insurance companies, who want the tests to be tougher.
After reviewing research, the IIHS determined its existing test models didn't precisely represent the hazards of today's accidents, so it changed its crash sled to better mimic the height and weight of SUVs and trucks, the top sellers in the current market. It also raised the speed of crashes (from 31 to 37 mph) based on data from recent years.
New Tests This Year
The IIHS gives ratings of Good, Acceptable, Marginal, and Poor in crashworthiness- how well the vehicle protects the crash-test dummies in each collision test. It also awards scores of Basic, Advanced, or Superior for crash avoidance and mitigation (driver-assist technologies, such as auto emergency braking).
These ratings are then used to award a silver medal, known as a Top Safety Pick, or a gold medal, called a Top Safety Pick +.
To earn a Top Safety Pick, vehicles must earn a Good rating in the frontal-offset test, Good or Acceptable in side-impact tests, and Advanced or Superior in daytime emergency braking system testing. Headlights must also be rated as Good or Acceptable.
For a Top Safety Pick+, the side-impact test must now earn a Good rating (no more Acceptable), a rating of Advanced or Superior in nighttime emergency braking, and the same headlight test.
2024 Subaru Ascent in Albuquerque, NM: Following in Great Footprints
The good news for you, the consumer, is that tests are more challenging this year, and the 2023 Subaru Ascent scored the highest rating for the updated moderate overlap front crash test of the IIHS. This test is to promote safety improvements for rear-seat passengers. The Ascent was one of just four vehicles in its group of 13 midsize SUVs to accomplish this.
On top of this, the Subaru Ascent has been an IIHS Top Safety Pick+ for three years straight. In fact, as of February 2023, Subaru has earned more Top Safety Pick+ awards than any other automotive brand since 2013. If you put safety at the top of new car features, taking a closer look at Subaru vehicles is in your (and your family's) best interest!
Check Us Out
Stop by our dealership at 7100 Lomas Blvd, Albuquerque, NM 87110, at your convenience to check out the 2023 Ascent and other award-winning Subaru models. Or you can wait a bit, and the 2024 Subaru Ascent in Albuquerque, NM will be arriving soon, and it promises to bring everything the 2023 model has and more!