​​​​​​​Sleek and Sporty, the 2023 Subaru BRZ near Rio Rancho NM Will Make You Happy
When you hear the name Subaru, the iconic Outback or maybe the Forester probably comes to mind. If you're into rally racing, it's quite likely you know about the Subaru WRX. But did you know Subaru makes a speedy little 2+2 roadster? The 2023 Subaru BRZ near Rio Rancho NM is a lightweight, perfectly balanced, rear-wheel drive sports car.
The B is for Boxer engine, the R is for Rear-wheel drive, and the Z is for Zenith, the highest point on the horizon for a celestial object. It's the sole RWD vehicle produced by Subaru, an oddity among the standard all-wheel drive autos for which the company is famous, but for good reason- it's a dream of a sports car!
Available as a 6-speed close-ratio manual or with the optional 6-speed automatic, the BRZ may not be as fast as the turbo WRX. Still, it does give you plenty of oomph with a powerful direct-injection 2.4-liter Subaru BOXER® engine that delivers 228-hp and 184 lb-ft of torque. That's more standard horsepower than the Honda Civic Sport, Mazda Miata, or Mini Cooper S. And with the BRZ's minimal curb weight and razor-sharp handling, it really moves, making any drive more thrilling!
What's New for 2023?
The BRZ was redesigned in 2022, the first complete makeover since 2013. Since it was all-new for the 2022 model year, the company announced no changes except a slight bump up in price to keep up with inflation. As you might expect for the first new model in nearly ten years, the 2022 models sold out within just a few months. We expect this to happen again for the 2023 Subaru BRZ near Rio Rancho NM, since the demand continues to surpass the supply of these outstanding BRZs.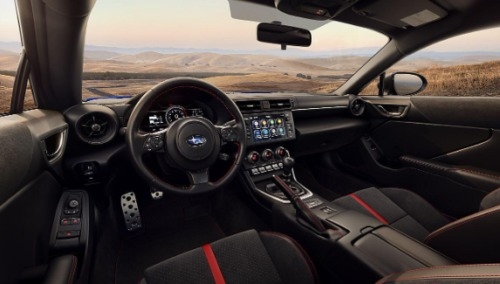 Made for Driving Fun: 2023 Subaru BRZ near Rio Rancho NM
The engineers at Subaru used a proven formula for a sports coupe and have taken it to completely new levels. A more aerodynamic and muscular exterior design gives the BRZ a shape that will turn heads no matter where it goes. The cabin takes the same approach, offering a driver-centric, technology-infused space that makes sense on the road and at the racetrack. A customizable digital instrument cluster with a digital G-force meter, Sport and Track driving modes, and heavily bolstered sport seating add to the feeling of serious driving.
Of course, the classic front engine/rear-wheel drive set-up is nothing new, but in the BRZ, it's put in a body that's stronger than ever before. The outcome is an even lower center of gravity and almost perfect weight distribution. Combined with a sport-tuned suspension and responsive, quick ratio, rack-and-pinion steering, these elements give drivers a smooth and immediate feel for the road, with a near-instantaneous response to it. For extra stability, the 2023 BRZ also features a wide rear track and reinforced suspension mounting points for enhanced rigidity.
Stop By for a Visit
If you're a driving enthusiast, you owe it to yourself to check out the new 2023 Subaru BRZ. Here at the Subaru dealership of Fiesta Subaru, our team members are standing by to show you all the updated features and styling of this amazing sports coupe. Stop by 8100 Lomas Blvd in Albuquerque, New Mexico soon!