​​​​​​​Subaru Winter Driving near Santa Fe, NM Inspires Confidence
One of the top things about living in New Mexico, especially Santa Fe, is the mild and pleasant winter season. Thanks to around 280 sunny days a year, when it snows, accumulation is usually short-lived in the city limits, with most of it melting not long after it falls. However, because extreme winter weather is limited throughout most of the state, many drivers find themselves unprepared for, or at the least, uncomfortable, driving in snowy or icy conditions. Not so when you own a vehicle that inspires confidence in less than-ideal-conditions, which is why Subaru winter driving near Santa Fe, NM is the way to go!
Which Subaru Models are Good in the Snow?
In case you didn't know, every Subaru model except the BRZ sports coupe comes equipped with Subaru's legendary Symmetrical All-Wheel Drive as standard. Compared to other AWD systems, Subaru's version constantly transmits power to all four wheels at all times. It also senses when a wheel loses traction and starts spinning, and locks that particular wheel for extra grip. This AWD setup, along with 8.7 inches of ground clearance, means if you drive a Subaru, you'll always have all-weather capability at your fingertips. This includes:
Ascent
Crosstrek
Forester
Outback
Impreza
WRX
Legacy
Solterra EV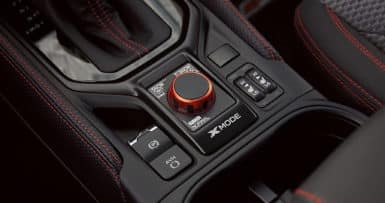 But it doesn't stop there. Each model also comes equipped with ABS, EyeSight Driver-Assist Technology, Stability Control, and X-Mode on SUV models. These systems work together to give you an exceptional experience with Subaru winter driving in Santa Fe, NM.
What is X-Mode?
X-Mode is Subaru's exclusive all-terrain system that enhances the AWD when needed. X-Mode technology helps optimize performance and capability even during the roughest driving conditions. For example:
Icy/Slick Roads – Traction control will become more sensitive and responsive, thus heightening stability.
Steep Inclines – X-Mode will switch into a lower gear ratio to improve power, and the transmission control unit will deliver 25% more AWD clutch pressure.
Extreme Declines – Hill Descent Control adjusts braking to all the wheels, so you remain in control while descending even the steepest slopes.
Using X-Mode couldn't be easier. Push the X-Mode button in the center console, and your Subaru will adjust the necessary components, like axles, throttle, and transmission. All you need to do is stay focused on the road ahead without worrying about complex controls.
All of Subaru's SUV/crossovers come with X-Mode and will maximize traction over any terrain. However, the Outback Wilderness and XT, Crosstrek Sport and Limited, and all Forester models include more extreme weather capability with their dual-function X-Mode settings for deep snow and deep mud.
Subaru Winter Driving near Santa Fe, NM: Tips
Although owning a Subaru is a great relief for inclement conditions, you still need to prepare it for winter by following a few essential tips.
Your battery not only starts up your car, but also keeps all the accessories running, including the heating system! Make sure it's operating effectively.
Good tires go a long way during the cold months, ensuring your Subaru stays under control during heavy braking and keeps traction on road surfaces. Icy conditions and low tread levels on tires spell disaster, too! Get your tires inspected, serviced, or replaced here at Fiesta Subaru.
Winter is no time to have visibility problems! Keep your windshield clean and debris-free with a set of new wiper blades. Invest in an ice scraper if you need one.
A vehicle lacking proper levels of fluids will struggle to perform its best, making driving no fun. Check and top off fluid levels before winter settles in! These include coolant/anti-freeze, transmission and brake fluids, engine oil, and washer fluid.
Be sure to check the heater and defroster functions of the climate control system before harsh weather arrives.
Visit Us
From winter tires to fluids, and everything else, Fiesta Subaru is ready to perform your annual winter servicing as well as routine maintenance. Set up your appointment, then make your way to 8100 Lomas Blvd, Albuquerque, NM 87120, and let our service professionals do the rest!