​​​​​​​Subaru has Several Top AWD Cars near Rio Rancho, NM
If you're shopping for a new car, you may be wondering if you should get something with all-wheel drive. There are real advantages to having AWD, even on dry pavement, especially in inclement weather, thanks to its superior traction. Most SUVs and crossovers are offered with AWD, but the variety lessens when looking at sedans. Read more about the top AWD cars near Rio Rancho, NM.
All-Wheel Drive Explained
First, most of the passenger cars for sale today are front-wheel drive. This system only sends the engine's power to the vehicle's front wheels. Rear-wheel drive sends torque to the rear wheels and is commonly found in performance cars, luxury sedans, trucks, and truck-based sport-utility vehicles (SUVs).
With all-wheel drive, the power is delivered to all four wheels and is distributed to where it's needed most. There's much more grip since AWD turns four wheels instead of only two. When there's not much traction, as with rain, ice, or snow, you can accelerate better, with less slipping or none at all. The car will feel stable, with no fishtailing or sliding to make your heart race.
What are the Top AWD Cars near Rio Rancho, NM?
Although more automakers are offering AWD cars than ever, Subaru has always supplied many of their popular models with AWD as standard equipment. Subaru vehicles have also fared quite well in automotive tests from various organizations, thanks to their comfortable ride, spacious interiors, excellent visibility, good fuel economy, and reliability.
For a great AWD car that's very reasonably priced, you can't beat the Subaru Impreza. The base model starts at just below $20,000, and AWD comes standard in all three trim levels. The Impreza has everything you need for a sensible daily driver and adventurous weekend explorer. The interior is comfortable and roomy, and when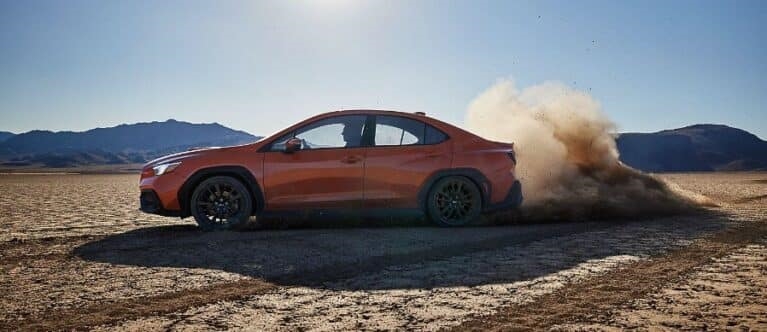 the rear seats are folded, it boasts more cargo space than most rivals. This hatchback seats five comfortably and can easily park and maneuver in tight spaces. It comes with EyeSight, Subaru's award-winning suite of driver assist technology, which now has a wider-view camera and a new feature that will steer the car away from collisions at speeds less than 50 mph.
If a performance car is more to your liking, the Subaru WRX is hard to beat, thanks to its robust power, rally racing heritage, and sports car handling. It's a good-looking compact sedan with room for five and brings 271 horsepower and a sport-tuned suspension for an exhilarating and fun driving experience. However, the WRX is still comfortable enough for your everyday commute, increasing its appeal. All four trim levels come standard with AWD, and any one is an outstanding choice for enthusiast drivers.
The Subaru Legacy is an excellent option for a comfortable midsize sedan with impressive safety, an attractive cabin, and amazing tech. Its price tag is also less than many of its competitors, which makes it a wise pick for drivers on a budget who desire the added confidence of all-wheel drive. It's a family-friendly sedan available in five trims with a choice of two engines and plenty of standard features. If you're looking for a new family car, the Legacy is sure to offer a version that's precisely what you want.
Visit Fiesta Subaru
To test drive any of these top AWD cars near Rio Rancho, NM, stop by the dealership of Fiesta Subaru at your convenience. Find us at 7100 Lomas Blvd NE, Albuquerque, NM 87110.