Subaru Albuquerque NM dealer: Dealership
Our motto at Subaru Albuquerque NM dealer is to positively impact our customers, community, and the world. We strive to provide superior Subaru vehicles, high-end customer relations, and innovative service. Our team will work diligently to assist all of our customers in achieving their dream of owning their dream Subaru. We maintain a vast assortment of the most current and used Subaru cars for you to browse. You can also benefit from our value-added services, including financing solutions and maintenance.
Subaru Albuquerque NM dealer: Fiesta Subaru
Our team directs their attention toward helping our customers become owners of a dependable Subaru. At Subaru Albuquerque NM dealer, we provide an assortment of services and a deep commitment to assisting our customers with determining whether to purchase or lease the perfect Subaru. We are confident that our team will have you driving off our lot in the Subaru of your dreams.
Subaru Services
We know there are many dealerships for you to choose from and that buying a new car can be overwhelming. At Subaru Albuquerque NM dealer, we go above and beyond to exceed your expectations in providing the most efficient customer service and an enjoyable car buying experience. Our team consists of Subaru experts in our products, financing, and maintenance. They can differentiate between models and trim levels to help you find the perfect match. Maintaining your Subaru is essential, so allow our factory-trained technicians to service your car to ensure it remains reliable. We perform routine maintenance such as tire alignment, tire rotation, replacing windshield wipers, and oil changes using only authentic Subaru parts.
Subaru Inventory
We maintain a wide range of Subaru vehicles for you to browse, including models such as the Ascent, BRZ, Crosstrek, Forester, Impreza, Legacy, and Outback. Our inventory is often updated with new and used Subaru models, so check our website or drop in to see what we have in our current inventory.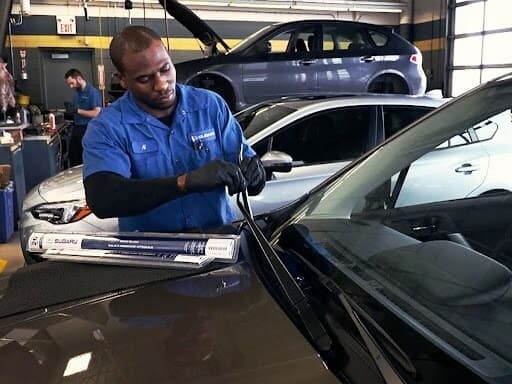 Fiesta Subaru
At Fiesta Subaru, we provide unmatched customer service and supply quality Subaru vehicles. We recognize the frustrations we've all been facing, especially when it comes to locating inventory. Our goal is to provide a broad selection of Subaru vehicles for you to explore. Please stop in and test drive any Subaru vehicle and experience its precision handling, superior safety features, and impressive infotainment system. Please scan over our website to view our inventory. To maintain our goal of providing a flawless car buying experience, we provide an assortment of links available on our website for your convenience. Our finance geniuses are ready to assist your purchase of your new, pre-owned, or leased Subaru. Our professionals are prepared to answer any questions you may have concerning purchasing, financing, and maintaining your Subaru. Please visit Fiesta Subaru and permit our group of specialists to help you locate, buy, finance, or lease your Subaru. Fiesta Subaru is located at 8100 Lomas Blvd NE Albuquerque NM 87110. Please consider giving us the opportunity to show you how we are different from other dealers and to provide a flawless buying experience. We know that you will become a lifelong customer.