​​​​​​​The Great Thing About Subaru Accessories in Albuquerque, NM
What's the difference between Subaru parts and Subaru accessories in Albuquerque, NM? In our field, parts are the automotive components that replace the original pieces when worn or damaged. Accessories are items made for performance, convenience, comfort, safety, or customization, and have been designed for adding on after you purchase a vehicle.
So, if you want some new features on the Subaru you already own, accessories are a great way to accomplish this. At Fiesta Subaru, our helpful service team can assist you in selecting, ordering, and installing the new accessories you want for your ride.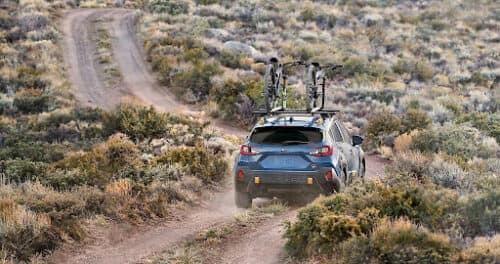 With this in mind, there are a few things you should know. We've compiled four important thoughts to consider before buying new accessories for your Subaru.
Aftermarket Parts Differ in Quality
Suppose you want to add a bike rack to the roof rails of your Crosstrek. There are lots of companies that make high-quality and durable products that function well while looking good. But aftermarket accessories can be a gamble. You can do your research, read reviews, or buy the most expensive items in hopes that you actually get what you pay for. Or…
You can order authentic Subaru accessories through Fiesta Subaru. We get OEM parts straight from the factory, and Subaru-approved accessories from trusted brands. Stop by or call to speak to an associate about your needs. We'll help you find what fits perfectly and performs appropriately.
Aftermarket Parts Can Affect Warranty Coverage
We've all heard that non-OEM parts or accessories installed on your vehicle void the new car warranty. That isn't always true, and there's more to it.
Let's return to that bike rack you wanted for your new Crosstrek. Suppose you had an inexpensive one installed by a third-party shop, and later it fell off your car while driving, causing damage to the liftgate and rear fender. Because the rack wasn't approved by Subaru and wasn't installed by a Subaru factory-trained tech, the damage may not be protected by the warranty. Which means you'll be paying for those repairs!
Instead of that scenario, get genuine Subaru accessories in Albuquerque, NM, or Subaru-approved accessories installed by the experts at Fiesta Subaru. In the unlikely event of breakage, failure, or damage to your vehicle, your new car warranty covers it all. What's more, Subaru-approved accessories have their own warranties! If it malfunctions or breaks, it can often be repaired at no cost to you.
Our Dealership Can Install Subaru Accessories in Albuquerque, NM
Unfortunately, one of the problems with not-so-reputable aftermarket auto shops is the quality of the work. Although you can do online research, it's still challenging to determine a trustworthy mechanic from one out to make a quick buck while cutting corners.
When you allow Fiesta Subaru to install your accessories, you can trust our workmanship and dedication. If you're unhappy with the work or if something goes wrong, come back for a timely fix.
Fiesta Can Do More Than You Think
Sure, the dealer can install something easy, like a bike rack (and many Subaru accessories are easy to install yourself), but what if you want more lift and knobby tires? A souped-up audio system? Cool aftermarket rims for your WRX? Are these things that can be done at the dealership?
You may think you need to visit the local pro audio shop when you want a better audio system, but don't count out your dealership! We can do all types of accessories, including suspension lifts, stereo upgrades, tires, wheels, and more. Give us a call to see what's possible and to compare our prices against the competition. You may be surprised to learn that Fiesta Subaru is the best place for accessories when it comes to value, quality, and convenience. Visit the dealership of Fiesta Subaru anytime at 7100 Lomas Blvd in Albuquerque, NM 87110.