​​​​​​​Keep your Subaru Running Like New with Fiesta Subaru Service Near Rio Rancho NM
In the past, a vehicle reaching 100,000 miles was thought to be on its last legs, and 200,000 miles was unheard of! But in today's automotive world, that's not the case, especially in the case of Subaru vehicles. A Subaru can easily last 200,000 miles or more with proper care and maintenance. And while improvements in engineering, technology, and parts' quality are a significant reason for vehicles achieving higher mileage today, getting the proper care still plays a critical role in influencing your Subaru's longevity. Beginning with a dependable vehicle is a great place to start, but if you want your car to be as reliable as it can be on the road, it's necessary to maintain it. That's where Fiesta Subaru service near Rio Rancho NM comes in.
Oil Changes
From the tires and brakes to the oil and antifreeze, many components on your Subaru need to be checked periodically. Changing the oil and filter is one of the most common, yet essential services that you should perform on your car is. Some sources recommend changing the oil every 3,000 to 5,000 miles, while others claim you can go longer. When to change the oil depends on several factors, such as your vehicle's age, make, model, and how much it's driven. Your owner's manual will tell you exactly what's best for your vehicle.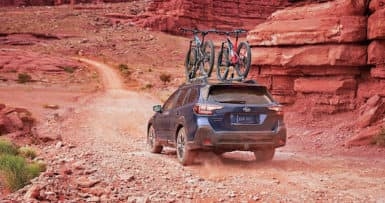 To make getting an oil change as easy as possible, Fiesta Subaru offers Subaru Express Service. We know how busy life gets, and that's why there's no need to schedule ahead of time. Just drop in for an oil change or other minor service at your convenience, and our dependable technicians will get it done and get you and your car back on your way quickly.
Fiesta Subaru Service near Rio Rancho NM: Regular Maintenance
Regular maintenance is also paramount to your vehicle's health. Most cars will need their first mileage-based tune-up at around 30,000 miles. From that point, the next mileage-based tune-ups should occur at 60,000 and then 90,000 miles. After that, every 30,000 miles should keep your long-running vehicle in the great shape you've kept it.
Some automakers recommend their cars have more frequent maintenance services, such as every 15,000 miles. You may want your newer vehicle inspected at 15,000 miles to ensure everything is working smoothly and no problems exist. Tread wear on tires, brakes, batteries, and mechanical components may be examined. Visit our Service Center page on Fiesta Subaru's website to learn more.
Choose the Best Parts
As a car owner, you have lots of options, including where you get your car parts. Here at Fiesta Subaru service near Rio Rancho NM, we use only original Subaru and other original equipment manufacturers' (OEM) components. This means you get the same high-quality parts that your vehicle received when it was built, ensuring the best performance. When your car needs a fix, our techs are dedicated to fitting it with the best components, backed by a warranty. Check out our online Fiesta Subaru Parts Center for more information.
Contact Us
If you're ready to make your vehicle as reliable as possible, please reach out to the Subaru dealership of Fiesta Subaru for all your service and maintenance needs.