​​​​​​​How can Fiesta Subaru make Subaru service in Albuquerque, NM less of a bother during another HOT summer?
As the New Mexico summertime really puts its stamp onto the year with some serious heat, consumers will be relieved to know that Fiesta Subaru has put some serious thought and work into remaking their dealership, including the service department. The dealership of Fiesta Subaru will be moving in the summer of 2023 to much bigger digs, there are now 35 lifts (up from 11 at the old service department) with expert factory-trained technicians who know everything about Subarus and are ready to get to work on yours!
More than that, Fiesta Subaru has invested thousands of dollars into the latest scanners and electronic tools, so those technicians can get to work quickly on your vehicle. And while the time of training a single Subaru tech can take between two and five years, the experience they bring to the job is priceless and worth the time to train! One thing to remember is Fiesta Subaru service in Albuquerque, NM writers and techs are able to bring up and identify warranty issues that originate from Technical Service Bulletins (TSBs) for every Subaru service. TSBs from the Subaru factory track the common problem areas for each model line, and provide guidance on the best way to fix them, many times at no cost to the consumer.
Expanded Lounge for Subaru Service in Albuquerque, NM
Even if the job is as simple as an oil and filter change, Fiesta Subaru has opened up an expanded express service line for quick in-and-out service. Fiesta Subaru recognizes that its customers need to be in a comfortable setting and the new service lounge has been expanded accordingly. Air-conditioned and encompassing an area almost twice the size of the older lounge, it also offers complimentary snacks, Starbucks coffee, sodas, magazines, and newspapers. Beyond that there are flat-screen TVs, free Wi-Fi, and workstations if you're trying to get a head start on work projects.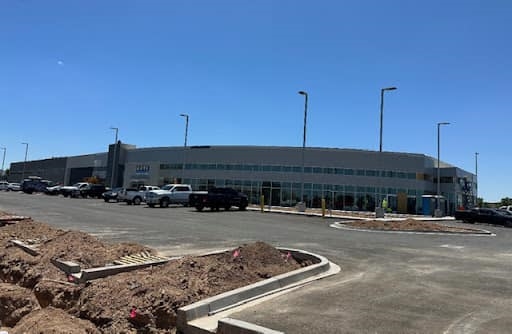 What else to expect with the new Fiesta Subaru building?
This summer, Fiesta Subaru also plans to install a bicycle workstation near the lounge to allow owners to adjust their bikes and access the bike paths around Albuquerque while their cars (the ones with or maybe with a future bike rack on them) are serviced. There will also be an outdoor dog park available for those who choose to wait with their four-legged friends. The dog park will provide the perfect escape for both the owner and pet! No more boring waits for your vehicle to be complete. There is plenty of entertainment for you as your vehicle gets serviced.
Of course, there are also loaner vehicles available for those who aren't as ambitious in getting their workouts in while their Subarus shape up. The Fiesta Subaru expanded service department is available Monday through Saturday, with reservations available online or via the phone at 505-499-5468. So don't hesitate, and be sure to check out the summer service specials and other specials throughout the year at Fiesta Subaru at 7100 Lomas Blvd in Albuquerque, NM 87110.