For a Reliable Ride, Shop Fiesta's New and Used Subaru Dealership near Rio Rancho NM
You've probably heard that 96% of all Subarus sold in the last ten years are still on the road today, and you may also have heard that Subaru vehicles have some of the best resale values in the industry. That could be why you're considering buying a used Subaru, thanks to the unbeatable reliability you can enjoy, along with a more affordable price and more choices than purchasing a new one. Very few vehicles on the market provide the same benefits as a Subaru, so if you're looking for a dependable used car that will give you the features you want and more, nothing beats a Subaru!
Fiesta Subaru: New and Used Subaru dealership near Rio Rancho, NM
If you're searching for the top locale for your next car purchase, you won't go wrong with Fiesta Subaru, the area's leading used Subaru dealership near Rio Rancho NM. Not only will you find a terrific selection of used Subaru models, but you'll find an outstanding team of knowledgeable and experienced associates.
Advantages of Used Subarus
When shopping for a vehicle, the choice to purchase a used model opens you to more benefits. You'll have a better selection of cars to choose from, allowing you to find precisely what you want when it comes to models, trims, features, and more. Because Subaru has many different models in its lineup, choosing the best one for you and your family is easy.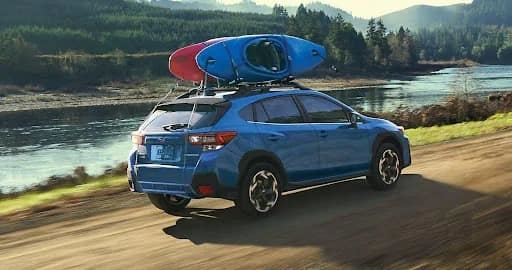 Shopping for a used Subaru means no need to limit yourself to only what's available for the current model year. If you've had your eye on a prior year's Subaru, you can search online or browse our lot of used vehicles. You can also fine-tune your search to discover the exact model that has everything you want inside, such as safety features, off-road capabilities, and more.
Reliability and Affordability
Maybe the unmatched reliability of the Subaru brand is what attracts more drivers. After all, Subaru is hard to beat when you consider dependability. And with the entire lineup holding their value better than most of the competition, for some drivers, nothing more is needed to help make their decision. Models such as the Crosstrek, Forester, and Outback are continuously found at the top of the list regarding resale value. So, even if you buy a model that's a few years old, if you decide to sell it, you'll likely get more than you would for cars from other brands. And although Subarus usually depreciate less than many rivals, another benefit to buying used is getting a vehicle that has already gone through most of its depreciation. Hence, one more reason why many drivers are choosing used cars for their traveling needs.
Your Subaru is Waiting at Fiesta
Along with dependable cars, you can expect a better shopping experience with us here at Fiesta. More and more drivers are choosing Subaru vehicles every day, from daily commuters to sporty to sturdy SUVs. If you're eager to test drive your future pre-owned vehicle, visit the best used Subaru dealership near Rio Rancho NM, Fiesta Subaru. We're located just a short drive away, at 8100 Lomas Blvd in Albuquerque, New Mexico.