Find a Fuel-Efficient Used Subaru near Rio Rancho, NM
With gasoline prices being what they are, you may want to drive something that offers you fuel-saving performance on every trip you take. At Fiesta Subaru, we have an excellent selection of fuel-efficient used Subaru near Rio Rancho, NM, allowing you to choose from an assortment of sizes and styles to discover the one that meets your needs and helps you save when you fill up. Explore the different used Subaru cars and SUVs, including many gently used models. Our used inventory is competitively priced, and our finance experts will work with you to personalize the financing plan that fits.
Fuel-Efficient Used Subaru near Rio Rancho, NM
We offer a wide assortment of fuel-sipping used Subaru cars and crossovers for sale in your area. Subaru's impressive lineup has the famous BOXER engine with horizontally-opposed pistons that move a smaller distance than V-shaped piston arrangement or vertical piston counterparts in traditional engines. This allows BOXER engines to achieve better fuel economy in every model.
Used Subaru Legacy and Impreza Models
If you're shopping for a more fuel-efficient used car, take a look at our collection of used Subaru Impreza models. All the used Imprezas here at Fiesta come with a 2.0-liter 4-cylinder BOXER engine that puts out 152 horsepower and 145 lb-ft of torque while providing impressive fuel ratings on the highway and in the city to assist you in saving money on every outing around Rio Rancho and the surrounding areas. We also have some beautiful used Legacy models, which offer bigger engine options and more space without giving up much fuel economy.
Used Subaru Crosstrek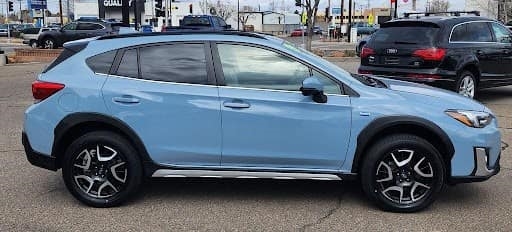 You may be searching for a versatile compact crossover SUV that can help save on your fuel bill. Check out our excellent selection of used Subaru Crosstrek models if that's the case. We have a variety of spunky little Crosstreks available, with every trim delivering the fuel economy that gets you further without having to stop to fill the tank. The base Crosstrek and Crosstrek Premium models have a 2.0-liter 4-cylinder that produces 152 horsepower while achieving 29 MPG combined (city and highway). For the least thirsty model, look for a used Subaru Crosstrek Hybrid. These models use a plug-in hybrid engine (internal combustion mated with a battery) which allows for an EPA-estimated 35 MPG combined, with the capability for traveling 17 miles using electric power only.
Other Fuel-Efficient Used Subaru Models
Every Subaru vehicle is designed to give you a winning combination of fuel economy plus performance. For this reason, you can choose from a variety of used Subaru near Rio Rancho, NM, including many used Foresters and Outbacks, and still enjoy impressive fuel economy no matter where the road takes you.
Explore Other Fuel-Efficient Used Vehicles
Of course, you have options when you shop Fiesta Subaru for fuel-efficient transportation. We also have many other makes and models that get good fuel economy. Explore our used inventory to find the best vehicle that fits your lifestyle. Whether you need a daily driver or a more adventurous model for weekends in the wild, we have something for you here at Fiesta Subaru.
Stop by Today
Come take a look at everything we have to offer. You can find the Subaru dealership at 8100 Lomas Blvd in Albuquerque, NM 87110.