Fiesta Subaru has Everything You Need for Subaru Repairs near Rio Rancho, NM
Subaru vehicles are some of the most well-made autos on the market today, and because of that quality, they are incredibly reliable and are meant to last. Famous for its legendary Symmetrical All-Wheel Drive on nearly every model, Subaru is a brand that continually gives more than it takes, which is another reason why so many people love it. Here at Fiesta Subaru, we celebrate the dependable Subaru vehicles of the past by reminding you about our outstanding Subaru repairs near Rio Rancho, NM.
We're Here When You Need Us
It's a day you hope never to have. Your car breaks down, leaving you stranded. However, since we live in an era of cell phones, you won't be stranded for long. Your vehicle, on the other hand, still needs to be taken care of. Luckily, our skilled technicians in the Service Department at Fiesta Subaru have what it takes to solve your dilemma. We can quickly diagnose and then get to work on the root of the problem. Our dedicated team members are certified, professional problem-solvers who love the Subaru brand as much as you do and will work diligently to get your car up and running as soon as possible.
Subaru Repairs near Rio Rancho, NM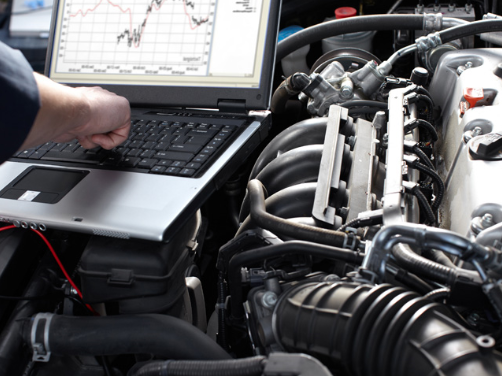 If there's an issue with your Subaru, but you're not exactly sure what is wrong, we can tackle it here at Fiesta. Our crew is Subaru factory-trained and highly experienced in working on AC/heating, brakes, diagnostics, electrical systems, engines, transmissions, and a lot more. Even if there's a glitch in your audio system or other minor components, our team can fix it. Given today's highly computerized vehicles, we're a tech support team as well as mechanics! Keeping everything on your Subaru working at peak performance is our goal.
Prompt and Personalized Service
Of course, no one likes waiting an extended period for an auto repair. You may only have the option of a loaner vehicle if you carry top-tier car insurance. And even with insurance, you may have to pay a daily rate for the loaner. Why spend the extra money? When you bring your car to Fiesta, we treat it like it's one of our own, which we'd want fixed immediately! We adhere to accurate and prompt service schedules to never overlook an appointment. And remember, although we specialize in what we believe to be the best brand worldwide, we can also take care of any brand of vehicle you may need servicing.
Sure, there are loads of places that will repair or service your car, but very few places will treat your ride with the love and care we provide. We also have several online resources to help you schedule routine maintenance and keep up with your maintenance records. We understand you have a busy life. Logging in to schedule your service can help make a tough day a little easier.
Genuine Subaru and OEM Parts
Quality is also a top priority here at Fiesta Subaru. When your car needs replacement parts, not only do we give you a reasonable and accurate estimate, but we also guarantee OEM parts. OEM means "original equipment manufacturer," which are the components used on your specific make, model, and trim when the vehicle was made. They may be a bit pricier than aftermarket parts, but they are the exact parts that work best in your car. Moreover, third-party parts can sometimes void your warranty or make the warranty invalid for that repair. Don't be fooled by other auto repair shops that may not use OEM parts; get your Subaru repairs near Rio Rancho, NM here at Fiesta Subaru!
Schedule Today
Yes, we are a car dealership, but we do more than sell cars here at Fiesta. We hope to be your go-to shop whenever you need service, repairs, or parts for your Subaru. Call us or stop by today to discover how we can help you get your Subie back on the roads and running at its peak. We're located at 7100 Lomas Blvd, Albuquerque, NM 87110.