We're Dreaming of a 2024 Subaru Outback EV in Albuquerque, NM
The Subaru Corporation recently joined the ranks of other non-luxury automakers who have added a fully electric vehicle to their lineups. The five-seater 2023 Subaru Solterra is a compact crossover that's just a bit longer than the Subaru Forester. It's offered in three trim levels starting at nearly $45,000 and moving up to almost $52,000 (prices subject to change) and boasts a range of an estimated 300+ miles. It's equipped with Subaru's legendary Symmetrical All-Wheel Drive and the famous 8.3 inches of ground clearance. The Solterra has received rave reviews, and everyone is excited to have an electric vehicle included in Subaru's offerings. The big question is, will there be a 2024 Subaru Outback EV in Albuquerque, NM?
Subaru's Plan for the Future
Subaru officials recently announced their quarterly results and used the same event to disclose new information about their upcoming electric vehicles. Although details were not exact, it has been reported that one of the company's top officials let it be known that the U.S. will significantly influence the corporation's future. He reportedly explained that "America accounts for 75 percent of the company's total sales," so Subaru's electrification plan will revolve around "U.S. market trends, legal, and environmental regulations." The company official said that Subaru will need to offer a number of different electric vehicles, and they have "shifted their weight toward that goal in their development." The Subaru Corporation also announced that they will construct a dedicated all-electric model manufacturing plant by 2027. They will build new EV models as they increase battery-electric production within the next five years. It's still anyone's guess as to what the next Subaru EV will be now that the 2023 Solterra is on sale, but we believe the 2024 Subaru Outback EV in Albuquerque, NM would be a great place to start!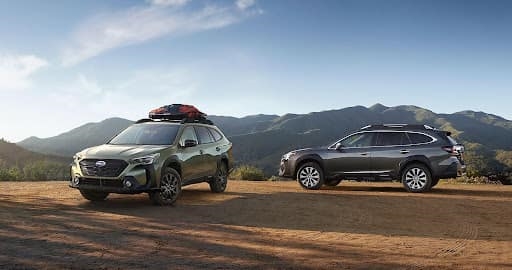 Rumors Abound
It's been rumored that the company will reveal an updated plan for electrification later this year. However, it seems they will still rely heavily on Toyota since officials have stated their involvement is "essential." Apparently, we should expect more "badge-engineered" EVs, such as the Solterra, which is very much like Toyota's bZ4x. And despite Subaru's obvious acknowledgment of the growing importance of battery-electric vehicles, the company isn't depending on just one particular venture, as their "main electrification strategy focuses on solid hybrids and EVs, and launching such models in the U.S. by 2025." The report also states that the upcoming hybrids will use Toyota technology and be manufactured at Subaru's Gunma facility. A different report stated that the company will design its models in-house and will not rely on Toyota as a collaborator on Subaru's future EVs. It was reiterated that the company will build a purely EV factory on the site of the present Oizumi plant in Japan, which currently fabricates engines and transmissions.
Will the 2024 Subaru Outback EV in Albuquerque, NM be Next?
The gasoline-powered Outback is Subaru of America's top-selling model in the AWD lineup. It outsold both the Forester and Crosstrek in 2022, and is experiencing brisk sales once more. To test drive the 2023 Outback or any of the current models, visit the dealership of Fiesta Subaru at 8100 Lomas Blvd, Albuquerque, NM 87110 today!