Discover the Subaru Outback Wilderness near Rio Rancho, NM
Back in 1984, when Subaru debuted its very first Outback as a 1985 model, it was basically an all-wheel-drive Legacy station wagon with a roof rack, lower body cladding, and a different grille. At that time in automotive history, all SUVs were body-on-frame, truck-based vehicles, and the unibody, car-based crossover that's so popular today wasn't even a reality. So, the 1985 Outback consisted mainly of cosmetic changes to the Legacy wagon. However, with the next year came a more powerful engine choice, a raised roof, a higher ground clearance, and an aggressive ad campaign with the actor of Crocodile Dundee fame, Paul Hogan. Sales improved considerably after that, and the Subaru Outback was on its way to icon status.
With each subsequent design modification, the Outback became more capable, and it easily held its ground against the onslaught of crossovers from nearly every automotive brand. Now in its sixth generation, the company has given us the Subaru Outback Wilderness in Rio Rancho, NM, a more off-road-focused Outback straight from the factory.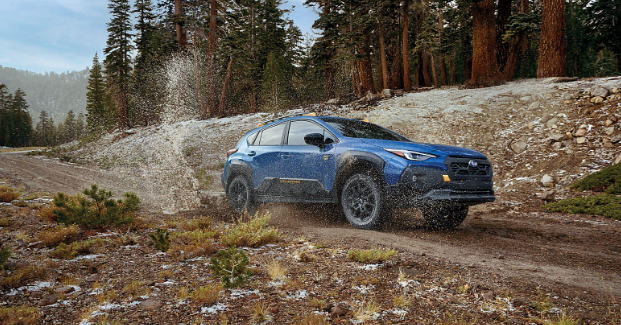 The Toughest Outback to Date
The Outback Wilderness gets things started with an increased ground clearance of 9.5 inches, significantly more than other crossovers, and the trail-tested capability of Symmetrical All-Wheel Drive delivers an optimal distribution of power to the wheels for maximum traction. The front and rear bumpers have been redesigned to accommodate greater approach and departure angles, and a front skid plate protects the underside. The roof rails are now reinforced to support even more weight, up to 700 pounds, including a roof tent with occupants.
The model has a standard 2.5-liter turbo-four BOXER engine that delivers a healthy 260 horsepower and 277 lb-ft of torque. First and rear gear ratios were adjusted to improve low-speed crawling and enable climbing up to a 40% grade. The standard dual-function X-MODE has been upgraded and re-tuned with precise settings for mud, sand, and deep snow. These settings allow for small amounts of wheel slip to navigate over obstacles and in inclement conditions. The upgraded suspension ensures improved stability while maintaining ride comfort and handling performance. On the pavement, the Outback Wilderness has your back with the latest version of EyeSight, Subaru's driver-assist technology that has been calibrated for the model's extra ground clearance.
Outfitted with knobby 17-inch all-terrain Yokohama GEOLANDER® tires, the Subaru Outback Wilderness near Rio Rancho, NM will get you through slippery or rugged off-road conditions with no problems. The raised white-letter tires and matte black 6-spoke rims sure look the part, along with the sturdy lower body cladding. A flat-black, non-reflective center section on the hood keeps glare out of the driver's eyes. Bringing it all together is the Geyser Blue exterior paint that's exclusive to the Wilderness series, including the Forester and Crosstrek.
Subaru Outback Wilderness near Rio Rancho, NM: Interior
Just as the outside is dressed for harsh conditions, the inside of the Outback Wilderness is comfortable while still able to withstand more than just carting groceries or soccer equipment. Soft, yet durable and water-repellent upholstery called StarTex® covers the seats, making cleanup of dirt and mud a breeze. Copper colored contrast stitching lends flair and matches metallic accents found inside and on the exterior. There's also an embossed Wilderness logo on the front headrests and the all-weather floor mats. The cargo floor and even the rear seatbacks are made with a waterproof and tough composite material designed to withstand pets, hard cargo, and impacts from loading gear. Brushed aluminum pedals lend a sporty look to the cockpit.
A sturdy interior doesn't mean scrimping on technology. Subaru's StarLink infotainment system is integrated within an 11.6-inch vertical touchscreen, offering direct touch controls for climate control, X-MODE, multimedia, and vehicle settings. Straightforward analog instrumentation keeps the driver informed. The system also includes Apple CarPlay/Android Auto compatibility, Bluetooth connectivity, and a rear vision camera.
Visit Us
To sum it up, the Outback made the Legacy wagon a force to be reckoned with, and the Wilderness model multiplies it. If you want more capability than you'll probably ever need, in a good looking package, let the call of the Wilderness be your guide. Come see and test drive the Outback Wilderness at Fiesta Subaru, 7100 Lomas Blvd, Albuquerque, NM 87110.