Why You Should Consider Buying a Used Subaru near Rio Rancho, NM
As a future or repeat customer of Fiesta Subaru, you can rest assured that we're eager to give you the best service around, along with fantastic deals! We're also dedicated to helping you find the right car, crossover, or SUV to fit your budget and lifestyle. From remote start to leather seats to navigation, we promise to find what you want in your next vehicle.
We offer a varied selection of both new and used cars that give drivers and passengers an enjoyable and efficient driving experience. And although a new car with zero mileage may be tempting, purchasing a used Subaru near Rio Rancho, NM has its benefits, maybe even more than purchasing a brand new model. Keep reading to discover why buying a used car, truck, or SUV is an excellent option.
Your Wallet Will Thank You
Whether you'd like a used SUV/crossover, car, or truck, the chance to save money on any of them is high. As you probably know, the moment a brand-new vehicle is driven off the dealer's lot, its value depreciates. But if you choose a used auto, you'll likely get it at a price that's been secured after its depreciation value.
Opting for a used vehicle rather than a brand-new one will also save money on insurance and registration fees. Furthermore, you'll save a bundle on monthly payments compared to a new car note.
More Bang for Your Buck
Of course, most buyers are already aware of the lower cost of a used versus a new vehicle. However, many buyers need to realize the chance to buy a nicer car while saving money in the long run. Naturally, it's always in your best interest to be concerned about mileage and condition when it comes to pricing on a used Subaru near Rio Rancho, NM. If you keep both in mind, you'll have a significant opportunity to get more features and amenities than you would if you bought a brand-new car.
Research a Used Subaru near Rio Rancho, NM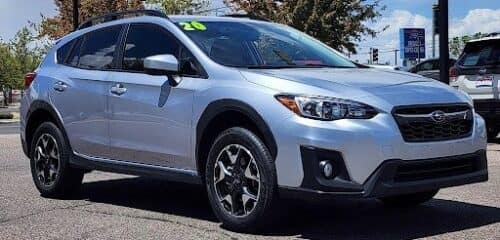 The key to finding a worthwhile used vehicle is educating yourself on its history, which is much easier than in years past. Today's technology makes it easy to discover any used vehicle's history. Websites such as Carfax and Autocheck can help you decide on the used cars that interest you.
By utilizing one of these sites, you can obtain a vehicle analysis that will show a variety of data, such as:
Ownership
Title History
Maintenance records
Repair information
And more
For even more peace of mind, consider purchasing a Certified Pre-Owned Subaru from Fiesta Subaru. CPO vehicles undergo more rigorous and thorough evaluations before they ever go on sale. Plus, they come with a more extended warranty. Please feel free to browse our CPO inventory online or in person.
Find Your New Used Subaru
Do you now see how a used Subaru near Rio Rancho, NM is just as advantageous as a new one? Visit Fiesta Subaru at 8100 Lomas Blvd, Albuquerque, NM 87120. When you've found the vehicle you'd like to make your own, the experts in our finance department will help you find a payment plan that's perfect for your budget.