When you compare the Subaru Forester vs. Outback in Albuquerque, NM, you'll match power, style, and all-around practicality. Both are top sellers for the company and entice buyers from all walks of life. But how do these two models compare out on the road?
Several other qualities come into play when choosing between them, and we're not talking about horsepower and looks. Despite their similarities, these vehicles represent different drivers' needs and lifestyles.
What They're All About
First things first: the Subaru Forester is a compact SUV. The Outback is technically a rugged station wagon. But putting technicalities aside, both autos represent adventures waiting to happen. On top of that, both models will get you to work and back home without costing you more at the pump than the average compact sedan. As daily drivers, they are smart and disciplined. Engage X-Mode and swing off the pavement; they are sturdy and powerful.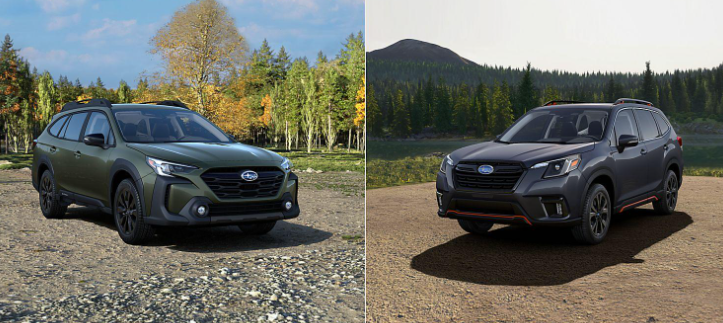 Subaru Forester vs. Outback in Albuquerque, NM: Power and Handling
Both Subarus have a 2.5-liter 4-cylinder BOXER engine that puts out 182 horsepower, but you can opt for the 2.4-liter turbocharged BOXER in higher trims of the Outback. It delivers a robust 260 horsepower. The tried-and-true Lineartronic® Continuously Variable Transmission (CVT) comes standard on both, regardless of engine, along with Subaru's legendary Symmetrical All-Wheel Drive.
Get these vehicles on the road, and they'll feel different, despite having the same engine. The difference in ride quality can be credited to several reasons. The longer wheelbase on the Outback is an obvious reason, giving it a smoother and more controlled cornering experience. Take on the same corner in the Forester, and it feels like you're taking on a corner.
This makes the Forester the livelier and sportier choice, while the Outback becomes the more relaxed option. But don't get the wrong idea; ask anyone who drives a Forester, and they'll tell you it rides pretty comfortably.
Which is Better for Families?
Thanks to their excellent safety records and tons of space, both the Outback and Forester are ideal family vehicles. But since we're comparing the two, let's take a look.
A big concern for most families is having enough room for passengers and cargo. Each model boasts ample space in the front and back seats for passengers to stretch out and get comfy. But because the Forester is taller, it provides a bit more headroom. Conversely, since the Outback is longer, you'll have more room in the back. When the back seat is folded flat, the Forester gives up 74.2 cubic feet, and the Outback has 75.6 cubes. However, since we're discussing families, the back seat will likely be filled with people, so the space behind the back row is just as important. The Forester has 28.9 cubes, and the Outback yields 32.6 cubic feet.
But what about that excellent safety? Both models received a 5-star safety rating from the NHTSA, while the IIHS awarded Forester a Top Safety Pick and the Outback a Top Safety Pick+. EyeSight, Subaru's suite of driver-assist safety technology, comes standard on both vehicles and offers many features.
Forester Vs. Outback: Off-Roading
If you're looking for adventure, both models provide excellent off-road capability, with 8.7 inches of ground clearance helping tremendously. The Outback comes out ahead, with a standard multi-function X-Mode system that delivers extra grip when needed and a Hill Descent Control for extra stability when taking on steep slopes. The Forester's lowest trim misses out on this feature, but higher trims have it.
What About Price?
Once again, these two are very close when comparing the price of the Subaru Forester vs. Outback in Albuquerque, NM. Of course, the final price depends on which options or packages you choose, but as far as beginning prices go, the Forester starts at $26,495, and the Outback starts at $28,895.
Visit Fiesta Subaru
We've only touched on some fundamental differences between these outstanding Subaru models. To help you decide, you must test drive both to see and feel their differences. Stop by and view the brand new construction of Fiesta Subaru located at 7100 Lomas Blvd, Albuquerque, NM, 87110, to discover which fits your family best.