Choose Fiesta for Your Subaru Dealership Maintenance
If you own a car, you already know how essential regular maintenance is for optimal performance and the longevity of your vehicle. What you may not know is the difference between basic automotive repair shops and Subaru dealership maintenance work. Of course, most auto repair establishments will do an excellent job of servicing most brands, including Subaru, but (we think) Subaru is a cut above other makes, and that's why certified Subaru technicians are the best choice for your ride! When you choose to bring your Subaru vehicle to a Subaru dealership such as Fiesta Subaru for maintenance, you can rest assured you are getting the absolute best care for your beloved Subie!
Subaru Dealership Maintenance Service
Are you wondering what services we offer? You can check your car's Subaru Warranty and Maintenance Handbook or visit our website and find the time intervals and recommended services. But just like many repair shops in the area, we do everything! The following is just a sampling of the many services we provide:
Flushing & replacement of all fluids (transmission, power steering, front & rear differential)
Air filter replacement
Oil change & filter replacement
Cabin air filter replacement
Battery service/replacement
Brake fluid flush & replacement
Brake inspection/repair
Multi-point safety inspection
Steering & suspension inspection/repair
Tire rotation
Cooling system flush/inspection/repair
Inspection/repair of clutch system
Belt replacement (including timing belt)
Fuel injection service
Engine diagnostic code scan
And more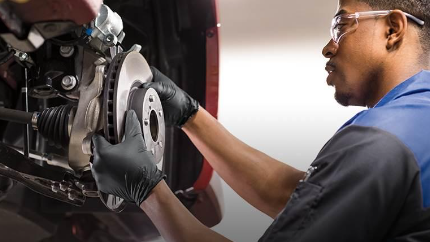 Naturally, our staff is always ready to help, so just give us a call at (505) 810-0680 if you have a question when searching for auto service in Albuquerque and the surrounding areas. Every technician on our Factory Trained Team has earned their certification through precise training programs that were developed by Subaru of America to correctly diagnose and retune the various components and technology unique to Subaru vehicles. Ultimately, this helps guarantee the performance and safety of your car when you are back behind the wheel. So, whether you visit us for a significant repair or regularly scheduled maintenance, your Subaru will be in the care of technicians who know it inside and out. What's more, we use only genuine Subaru parts, so that you can have absolute confidence in what goes in your Subaru.
Factory Training
Just what is Factory Training? Our technicians learn from highly advanced Subaru technical instructors and receive hands-on diagnostic, maintenance, and repair training and experience. They are taught to understand specific Subaru mechanisms and on-board systems, including:
Subaru BOXER® engine
Subaru EyeSight® Driver Assist Technology
Subaru StarLink
Symmetrical All-Wheel Drive system
And on top of this, training is updated annually! In addition, being Subaru factory-trained doesn't limit our technicians to working exclusively on Subaru vehicles. Not at all! Our technicians can complete maintenance, diagnose, and repair almost any make of automobile. Don't worry that you can't bring your non-Subaru vehicle to us -- you can!
Choose Fiesta Subaru
Now you know Fiesta Subaru has everything you need for automotive maintenance and repair, and we would love to be your first choice for Subaru dealership maintenance. Visit us today at 7100 Lomas Blvd, Albuquerque, NM 87110.