Car Camping in Your 2022 Subaru Outback near Santa Fe NM
When everyone and everything around you seems to be getting crazy, it may be a great time to get away from all the insanity. With just a bit of planning, a new 2022 Subaru Outback near Santa Fe NM can become a rolling campsite to take you wherever your heart desires. The Outback, along with the Forester and Crosstrek, are famous for their attitude of "go anywhere," and with standard full-time all-wheel-drive, they are some of the most outstanding vehicles to get you there. Subaru crossovers are excellent for camping, and you don't need a camping trailer or even a tent to enjoy yourself and remain comfortable. You can do it easily with the equipment you already own and a few other smart accessories.
Before You Go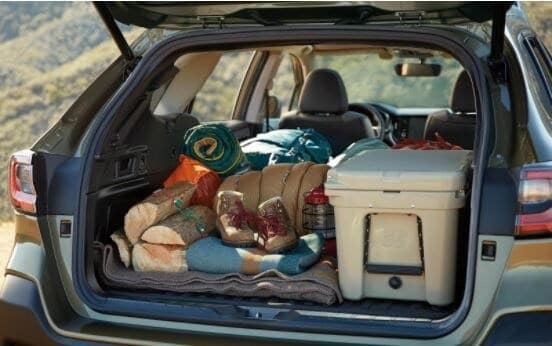 No matter if you're getting away for a weekend or longer, always start your trip with a full tank of gas. It may seem too obvious, but there's nothing as bad as being on a Forest Service road or other off-road trail and seeing the dreaded gas warning light. Begin your trip with as many full water bottles or containers as possible. Weight won't be an issue since you'll be driving your gear instead of carrying it in a backpack, so bring what you need for peace of mind. Use each visitor center or rest area you stop at to top off your water.
A Good Night's Sleep
If your budget doesn't allow for investing in a tent at the moment, the Outback and recent versions of the Crosstrek and Forester are large enough to throw a sleeping bag down in the back, behind the front seats, and two people can sleep comfortably. For a different approach, there is a signature product from the company, Luno Life, an air mattress made specifically for your Subaru Outback, Forester, or Crosstrek. With the rear seats folded, this mattress fits perfectly behind the front seats. It's made with durable, pet-friendly fabric, which means easy cleanup, so no worries about bringing your furry friends along. Are you reading a good novel? Bring it since you have no weight constraints in packing, and don't forget your pillow!
Finding a Campsite for Your 2022 Subaru Outback near Santa Fe NM
One of the best things about public land (think state & national parks, national forests, wildlife refuges) is that camping is free, and can be right alongside or near your car. However, there are some rules with dispersed camping (the name for free, unsupported camping on public lands), so be sure to call the local land management agency for specific regulations. If you think you'll want a campfire at your site, get a permit in advance from the same land management agency. Just because the site has a fire pit doesn't always mean fires are allowed. Remember what Smokey the Bear said, "Only you can prevent forest fires." You'll likely be opening doors frequently when you arrive, so help the car battery by setting the interior lights to the "off" position. If you don't already have jumper cables, it's a good idea to pack some in your car's cargo area or trunk for emergencies. (But obviously, you can't use them if there's only one vehicle.)
Keeping Things Fresh
Be sure to store your food and cooking gear in the car to prevent wily critters from taking over your site or raiding your grub. Bring sealed containers and a cooler to keep opened or uncooked foods fresh and prevent the food smells from wafting out into the air. One of the most important things to remember is to Leave No Trace (LNT) by packing out all your trash. Take the opportunity to throw out garbage daily if you're camping in an area with access to trash cans or waste bins. If you want to do something really beneficial, pick up any garbage left behind by previous campers, and leave the site better than when you found it.
Visit Fiesta Subaru
Make no mistake; the Subaru Outback is no rock-crawler. But while it may not be as tough as a true 4×4, it's also much easier to get around in the city, parallel-park, and stay comfortable on a long trip. Stop by Fiesta Subaru at 8100 Lomas Blvd NE in Albuquerque to find your Outback today!