ABQ Subaru dealership: Subaru Adventure
If you are near Albuquerque, you must visit the ABQ Subaru dealership. Fiesta Subaru has a fantastic team of knowledgeable professionals dedicated to helping our customers reach their dream of owning a Subaru. If you already have a Subaru, we can hook you up with accessories for your next adventure.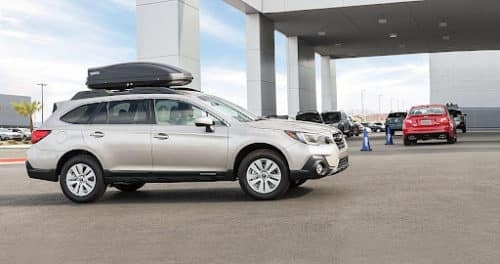 ABQ Subaru dealership: Subaru Accessories
You can purchase a bike rack at ABQ Subaru dealership to attend Trek Albuquerque Ride & Wrench. Riding and learning about caring for your bike will be a fun outdoor activity. If you are more of a freestyle rider and want to do your own thing, head to the river to ride the Paseo del Bosque trail. It's a 16-mile trail offering many stops along the path, like the Zoo, Biological Park, Aquarium, and Tingley Beach. You can enjoy the beautiful scenery and soak up vitamin D while riding along the trails.
It's evident that if you own a Subaru, you enjoy outdoor adventures. You can hit the trails in your Subaru SUV. For a thrilling off-road experience, explore trails like Elk Mountain, Caja del Río, Montessa Park, Rio Puerco and Mesa Gallina. Stop and picnic or find a camping spot for even more fun. All Subaru models are spacious enough to stow a tent. The Forester, Outback, and Ascent have plenty of room to sleep if you prefer off-the-ground and sturdier shelter. Contact Fiesta Subaru for assistance ordering the perfect biking, camping, or fishing accessories and gear. Subaru accessories and gear for your excursions include:
Thule Bike Carrier Hitch
Thule Cargo Carrier
Thule Paddleboard Carrier
Thule Kayak Carrier
Subaru Dealerships
You don't need to worry because our team at ABQ Subaru dealership will exceed your expectations. We will help you find the gear and accessories that match your Subaru model. Our service center will ensure your Subaru is ready for a road trip.
Finance Center
Once you settle on the perfect Subaru that matches your adventurous lifestyle, allow our finance gurus to find an auto loan that fits your budget. We understand that buying may not meet your needs, so we offer a lease option. Leasing will allow you to take advantage of the latest models and low monthly payments. Whichever option you choose, we will customize an auto loan or lease terms that are tailor-made for you.
Service Center
Now that you have purchased your Subaru, we look forward to providing the manufacturer's recommended service appointments. It is crucial to bring your Subaru to regular service appointments such as oil changes, tire rotation, wheel alignment, and brake service to keep it running at peak performance.
Fiesta Subaru
At Fiesta Subaru, we are prepared to help you find the Subaru that matches your lifestyle needs. We can even help you customize your Subaru.
Call our knowledgeable staff to prepare your Subaru for all the spring and summer events scheduled in the ABQ area. We are happy to show you our inventory of Subaru vehicles and help you with ordering gear and accessories for your outdoor needs. Please stop by our dealership at 8100 Lomas Blvd. Albuquerque NM 87110.