​​​​​​​A Used Subaru Albuquerque NM is an Ideal Choice
If you've been shopping around for a used car, you know there's no shortage of them in Albuquerque and the surrounding areas. But how many of these vehicles offer the capabilities, style, and quality of a used Subaru? The answer to that question is why so many drivers have opted to shop at Fiesta Subaru for their used Subaru Albuquerque NM.
When you step onto our lot, you'll find a wide assortment of top-notch used Subaru models, including Certified Pre-Owned Subaru Ascent and Forester options. If you'd prefer to buy a previously owned Impreza or Legacy, we have a few of these to offer as well. Our helpful and welcoming sales associates can help you decide which used Subaru is right for your lifestyle, so stop by today and schedule a test drive for whichever catches your eye.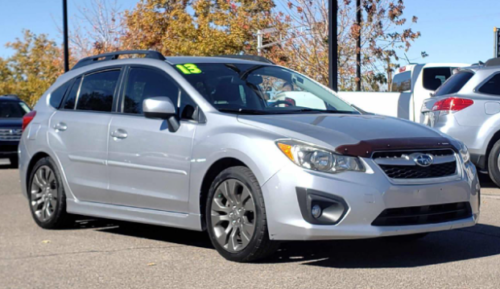 Benefits of Purchasing a Used Subaru Albuquerque NM
Our collection of used Subaru crossover SUVs and sedans has long been the destination of many local used car shoppers. Do you wonder why? It's because drivers from all over know that a used Subaru is hard to beat when you want durability, longevity, and exceptional quality.
After all, the absolute fact that 96% of all Subaru models built within the last decade are still on the roads today speaks volumes. With this data, it's not surprising that shoppers who want the most dependable used cars in Albuquerque will frequently put Subaru at the top of the list.
Reliability is also why a used Subaru is an excellent choice when shopping for the best used cars for teen drivers. Or, if you want one of the safest used cars on the market.
Why Buy a Used Subaru vs. a New Subaru?
At our friendly Subaru dealership, the question of purchasing a used Subaru Albuquerque NM versus a brand new Subaru has no right or wrong answer. The best decision for you depends on considerations like your budget, the latest Subaru specials in our area, and our used Subaru financing options. That being said, there are several excellent reasons to buy a used vehicle in Albuquerque, regardless of your financial situation or inclinations. The most important of these include the following:
Available specials on our used Subarus
Available Certified Pre-Owned Subaru models
Lower price points on used vehicles
A varied selection of used Subaru SUVs and sedans
Buy a Certified Pre-Owned Subaru
You're not alone if you're interested in the Subaru Certified Pre-Owned program. Many customers prefer the added security and peace of mind that come with a late-model Certified Pre-Owned Subaru vehicle. These models' popularity stems from being the most scrutinized and examined autos on our lot, and they are subjected to strict reconditioning guidelines before being offered for sale.
Get in Touch
Our team members can explain the differences between used cars and CPOs if you'd like to know more, so reach out to the Subaru dealer of Fiesta Subaru to get started. One visit to our showroom at 8100 Lomas Blvd in Albuquerque, New Mexico is all that's needed to discover why a used Subaru is the ideal choice for your next car.