2023 Crosstrek Hybrid near Rio Rancho NM: Plug-In or Gas Up
If you want it all, then you want the new 2023 Crosstrek Hybrid near Rio Rancho NM. It gives you all the amenities and safety technologies you want and offers many upgrades to customize your Crosstrek. You can depend on your 2023 Crosstrek Hybrid for your daily commute, quick errands, and long-distance driving for a weekend getaway by either plugging it in for a quick charge or gas it up. You get it all in this versatile SUV!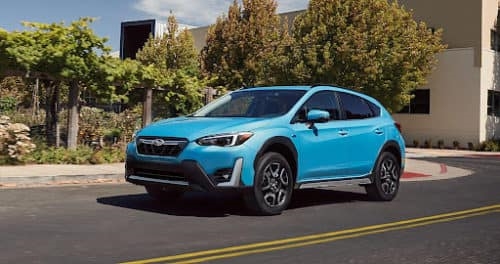 ​​​​​​​
2023 Crosstrek Hybrid near Rio Rancho NM: Technology
Your new 2023 Crosstrek Hybrid near Rio Rancho NM uses Subaru StarDrive Technology which merges plug-in electric ability for commuting with a SUBARU BOXER gas engine for longer trips. Since the gas engine charges the battery you won't have to worry about finding a EVgo station. It will get over 85 MPGe and over 475 miles of range. Plus, it comes with Symmetrical All-Wheel Drive. You will feel liberated and ready for the road!
Plug-In Charging
The new 2023 Crosstrek Hybrid near Rio Rancho NM comes with an at-home charger plugs into a standard outlet. It will take about five hours using a 120V outlet (Level 1), about two hours when using a 240V outlet (Level 2), and a commercial charging station using 240V for fast charging. There are over 45,000 Level 2 charging stations throughout the country with EVgo. EVgo is 100% renewable energy and is a preferred Subaru partner.
​​​​​​​
Fiesta Subaru
Our fantastic staff at Fiesta Subaru provides outstanding customer service and delivers excellent quality Subaru vehicles. Our team's dedication to serving our community keeps our customers returning to Fiesta Subaru for all your routine service. We want our customers to return to our dealership when ready to upgrade to the most current model of the Subaru Crosstrek Hybrid. We understand it's been challenging to locate inventory over the past couple of years. However, we are thrilled to offer you an extensive selection of Subaru vehicles for you to explore. Our goal is to provide a massive selection of Subaru vehicles for you to explore. Please drop by and ask our experts about High Occupancy Vehicle (HOV) lane access, federal tax credit, and other incentives when you purchase a 2023 Subaru Crosstrek Hybrid.
Please scroll through our website to view our assortment of Subaru vehicles and accessories. To provide an efficient car buying experience, we provide a few links on our website for your convenience. Our pros are equipped to answer any questions you may have regarding purchasing your new 2023 Subaru Crosstrek Hybrid. Our service techs are trained to manage all of your routine maintenance using only authentic Subaru parts.
You can stop by Fiesta Subaru; our showroom is conveniently located at 8100 Lomas Blvd NE Albuquerque, NM 87110. We can't wait for the opportunity to demonstrate how we are the very best dealership to buy your next Subaru. We know there are many other Subaru dealerships for you to work with, but we pledge none will deliver the wonderful experience you will receive at Fiesta Subaru. We are tickled to provide unsurpassed service and are prepared to show you what Fiesta Subaru offers.