2022 Subaru Crosstrek near Santa Fe NM: Crosstrek
The new and improved 2022 Subaru Crosstrek near Santa Fe NM will have a more powerful engine and a brand-new trim level. The Sport trim level will wow you!
2022 Subaru Crosstrek near Santa Fe NM: Crosstrek
An elegantly sleek and bold SUV will deliver a more powerful engine, off-roading capability, and comfort. You still get Subaru's innovative safety technology and its impressive eight-plus inches of ground clearance, all bundled in this compact SUV. If you are adventurous and want a vehicle that can meet your adventurous nature, then you want to check out the 2022 Subaru Crosstrek near Santa Fe NM.
Crosstrek Features
You can look for the new 2022 Subaru Crosstrek near Santa Fe NM, to make its appearance at dealerships in the Fall of 2021. It will have a modern, sporty exterior that still presents the Subaru style and a new turbocharged engine option that is fuel-efficient. We are excited to have two fantastic new exterior colors that you are sure to love! Look for a new bolder grille, moldings on the wheel arch, exterior accents and gray wheels. The interior is spacious and comes with a durable StarTex upholstery with contrasting colored stitching, and accents. Subaru will offer a variety of trim levels to fit any budget, the option to customize your Crosstrek to fit your lifestyle needs.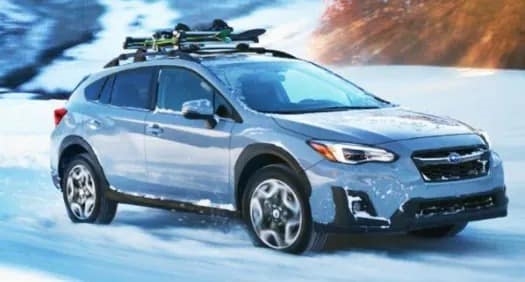 Safety
You can drive with confidence in the new 2022 Subaru Crosstrek near Santa Fe NM, knowing it comes standard with Subaru EyeSight Driver Assist Technology. As a result, it can decrease frontal accidents by applying the brakes if there is an emergency and the driver is unable to use the brakes. In addition, the Crosstrek will provide additional convenient safety features that will put your mind at ease.
Incentives
Fiesta Subaru is offering 0% APR financing on a new 2020 Crosstrek, and no down payment is required. This incentive expires June 30, 2021, on select trim levels. You can also get 0.9% APR financing on a 2021 Crosstrek without a down payment until June 30, 2021, on select trim levels. If you would prefer to lease a 2021 Crosstrek, we have a deal for you! You can lease a new 2021 Crosstrek for $229 per month with a down payment. This incentive ends June 30, 2021.
Fiesta Subaru
Our team at Fiesta Subaru is dedicated to helping you find your ideal Crosstrek. We keep a vast selection of Subaru vehicles in our inventory for you to explore. We are determined to deliver a stress-free car buying process. Our staff can assist with your trade, financing, and maintenance. Please check out our website for additional incentives on all of our Subaru vehicles. Fiesta Subaru is a full-service dealer. Fiesta Subaru maintains factory-trained technicians, using advanced equipment and authentic Subaru parts. Our finance department is committed to finding an auto loan that works with your budget. Please stop by to explore our extensive inventory and visit our showroom at 8100 Lomas Blvd Albuquerque, NM 87110. We look forward to meeting you and building a lasting relationship.